I'm happy to invite you to:
Our newest and highest tier program is officially launched. We are calling it "A Weekend at Lynn's." This is your chance to get personalized individual attention to help you change your life and your eBay business.
Since it is a new product, it can bend and change to meet your needs. Lynn will design a special weekend for you tailored to what you need to focus on in your eBay business.
You and you alone will spend a weekend at Lynn's office with her. This experience is not cheap and should only be taken on by those that really have the desire, ability and capability to move their businesses forward. Lynn does NOT want anyone to do this who will not benefit from the program and she refuses to take your money if she can't help you.
Since Lynn has decided to not do any more Live Boot Camps, this is your chance to learn the best of what she has to offer on a one-on-one basis.
Check out this testimonial form a previous Live Boot Camp attendee:
Hi Lynn!

Just thought I'd share with you the fact that my 2010 eBay total sales increased by over 50% over 2009 figures, due in a BIG way to all your teaching at Boot Camp Live in 2009, your ezines and your awesome teleseminars in which you feature such great guests!!!

I honestly thought my sales would be down in 2010 as I thought I had not done as well...lots going on during the summer months and sales were down during August and September, but I guess I really made up for it during the holiday season!

Thanks for being such a big inspiration and motivator! Both my husband and I are looking forward to attending your LOL event in March; we have booked our motel rooms and he is going to be putting in for that weekend off, so he can be SURE to be there! I think he is even more excited about it than me, which makes him pretty excited! :) We want to become the next 'Mel and Steve' team!

See you there!

Pam :) aka The Queen of Deals
Pam and her husband Terry. They are awesome!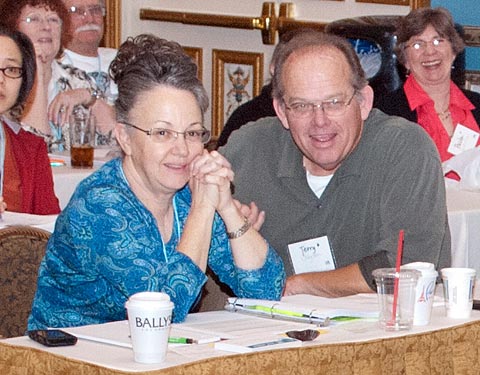 Pam and Terry at LOL 2011
The price is about the same as a seat at a Live Boot Camp, but you will be receiving one-on-one teaching from Lynn in her successful and productive eBay environment.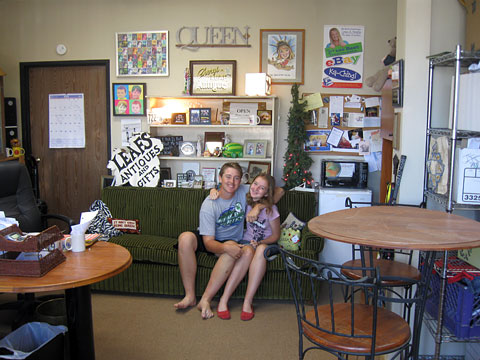 You will spend Friday afternoon with Lynn preparing for the weekend's sales, maybe do some thrifting and see how the new Headquarters is set up. On Saturday you will go garage saling and thrifting with Lynn, then take the items you both purchase back to Headquarters and actually list them with Lynn.
If you are traveling from far away, Lynn will have you focus on smalls. Ephemera (paper goods), jewelry, clothing, non-breakables and other items that can be easily shipped back to your location once you have the items listed.
You will learn Lynn's research techniques, pricing strategies, photography tips and how she can list so many items in a weekend. Then on Sunday, you will help Lynn answer questions, review offers, check in sold items and pack and ship.
Check out another testimonial from another Live Boot Camp attendee.
This is what Judy had to say
about Live Boot Camp 2009:
Thank you for another great Boot Camp experience!

I came home reinvigorated and have been powering through items that I had put aside for over a year! I needed a refresher of the Dralle Method to stop obsessing over my descriptions. And, big news today! I just hired a friend of a friend to help with shipping!

Also, I have been selling items that have been on my shelves since shortly after the '07 Boot Camp. Things I had forgotten about.

Have a great day!

Judy

p.s. I sold a couple of magazine lots over the weekend!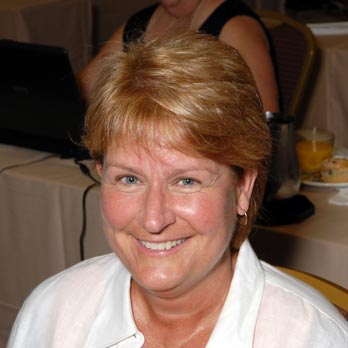 Judy M., Easton, Maryland
This weekend will help prepare you for a very successful eBay business.
If you decide to attend this personalized training, you will both agree on a mutually workable weekend. You will be responsible for all your travel, food and accommodation costs. Once you have selected your weekend, we will send you information to help you find accomodations nearby.
As we mentioned, the pricing is comparable to one seat at a Live Boot Camp. But instead of sharing Lynn with 10 to 20 other students, it will be just you!
A seat at Live Boot Camp is $3,297. This is the same price for a Weekend at Lynn's. It can be broken down into six payments, but must be fully paid for in advance of the weekend.
Another option would be to share the "Weekend at Lynn's" with a friend, family member or Queen's Court member. This way, there would still be only two of you, and the price would decrease to $1,697 per person.
Check out another testimonial...
This is what Serena Lee had to say
about Live Boot Camp:
I want to thank you again for putting on such a great Live Boot Camp for all of us. The 2nd time was really the charm. I really enjoyed learning from you, Houston, Indy, and my fellow attendees. It was such fun going to all those thrift stores and garage sales, "working in the field," so to speak. Thank you, too, for all the great laughs, esp at the restaurant, with the White Elephant. That was a definite highlight of this year's Boot Camp :0)

So, thank you, Lynn, from the bottom of my heart, for sharing the Dralle Method with all of us, so that we can have successful eBay businesses ourselves. I know I'm not alone in saying that your generosity and spirit know no bounds. It's so special to see your Grandmother's spirit, enthusiasm, and love of life carry on in you and your business. I know she is looking down on you with great pride. You are indeed answer to many people's prayers, for all that you do and all that you are!

Take care. Looking forward to learning more from you for many years to come!

Serena ("Is that a puppet?")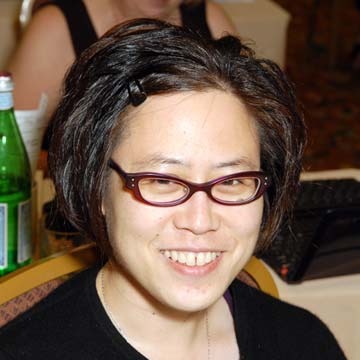 Serena Lee
This opportunity is priceless! Lynn looks forward to helping the first "Weekend at Lynn's" student in the near future.
Lynn doesn't know how many of these she will be doing. She is going to do the first one and then decide. If you are interested please contact Lynn immediately.
Email Lynn at Lynn@TheQueenofAuctions.com to see if you would be a good fit for this new and exciting program. A Weekend at Lynn's!
Happy eBaying!!
Lynn
Lynn A. Dralle
"The Queen of Auctions"
P.S. Don't look at what this is costing....As my mentor says, "Look at what it will cost you if you don't grab this opportunity."
P.P.S. Also, remember that because this is a business investment, the entire cost is 100% tax deductible (Check with your accountant.) This makes it an even better deal!
P.P.P.S. Remember this is a limited opportunity. It is up to you to seize a weekend for yourself. Reserve your spot NOW.