Testimonials from The Queen of Auctions Happy Customers!
What customers are saying about Lynn's eBay Audio Training Products
Lynn,
I just bought your book and listened to the free Queens Court recording, thanks for offering that. I have bought some of your DVDs and also take your newsletter. You are the main reason that I have been able to create a successful eBay business.

I started in July 2008, found your newsletter in August and became a power seller 2 months after that. I now have about $2,500 a month in sales (almost 40% of it comes from my store) and I estimate that I will have about $4,000 a month in sales by the end of the year. All while keeping a full time job (not to say that I have time for anything else any more). I hope to be able to attend your seminar one day, not this year, but maybe next year.

Thanks for everything!

Craig Clark
Hi Lynn,

I already had 2 of your Boot Camp In A Box seminars and always learn from them. So, I was hesitant to order the Dinnerware ebook - but OH MY GOSH! The amount of info is just amazing! I now carry 2 - 3x5 cards filled front and back with the "ALWAYS BUY" and the "NEVER BUY" info on them and am again "on the hunt" for the dinnerware. Can't wait for Volume # 3!
Thanks So Much,
Alice Shawhan
Hi Lynn,

Thanks for all the hard work you put into the Dinnerware book. I downloaded the first two chapters and printed them last night. I punched holes and put them in two binders. I created several cheat sheets and made wallet size laminate cards to help me when I am out shopping. I put the dinnerware in alphabetical order to help me find names quicker. I have been selling dinnerware for several years but I learned so much from your experience with different brands. I need to stop buying some and start buying others that I have been passing up.

Again, thanks for sharing your research and experience. I am on pins and needles waiting for chapter 3!

Barbara Boyd
Lynn,

HOT Damn! (Please excuse my dirty mouth)!     You made my day.  Part 2, it is like Christmas Eve morning as a kid.  Christmas morning was coming soon, but never soon enough.   I cannot begin to tell you how much I have enjoyed and learned from Part 1 and Queen's Court.  Thank you and all of the QC for helping me not feel like I am doing this alone… 

Since I have been transferring my store inventory to Fixed Price, I can not believe the items that are selling.  This so exciting.  It is about 70/30 for Full price vs BO.  1/4 of the sales are overseas.
 
Thanks again.
Sincerely,
Marie
Hi Lynn,
I just wanted to share my recent score with you. I had received my Dinnerware eBook a couple of weeks ago. We went to an estate sale   the very end of January. I saw this beautiful set of stoneware and they were asking $220 for it. It was Noritake Blue Adobe. They usually go to 1⁄2 price on the last day if no one has purchased some   of the pieces. Well, I asked about this set and they agreed to go to $110, then I bought so many other things, I asked if they would take $100 for the set. I had my fingers crossed and they said yes!

My husband was freaking out because I was spending $100 for a set of stoneware. I told him I was going to put them on E-Bay and he just said, "I hope you get your $100 back." I DID! One sale at auction added up to $386.39. Then I also sold a teapot for $53.00 and 3 salad plates @ $14.99 each. Grand total so far is $484.36 and I still have a lot of pieces left. WOW!

I just wanted to thank you so much for all your help. This certainly paid for my eBook and way more.

Thanks a bunch!!

Linda Bostock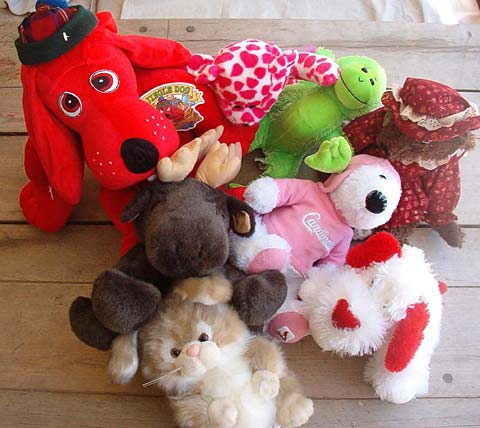 Lynn,
I just wanted to thank you for that great tele-seminar with Debbie. Since listening to it just a few weeks ago, I've already picked up and sold enough Plush for pay for my Queens Court membership this month and then some - on items I would have previously never even looked at! Anyway, I was excited when I did the math and wanted to thank you - sold 4 plush for a total of $60.96 with at most a $3 investment. The Queens Court is invaluable to me.

Thanks!

Lynnette
Lynn,

I'd like to thank you for writing the Ebook about Dinnerware.  It's the most informative one I've ever purchased.

Thanks,

Don Porter