Learn How to Sell on eBay with Lynn Dralle 
Meet Lynn, The Queen of Auctions for Over 35 Years
My name is Lynn Dralle and I am here to teach you
how to sell on eBay
. For over 15 years, I have made my living buying and selling on eBay. I am a third-generation antiques dealer with over 35 years experience in the antiques business (I started helping my grandmother in the antiques store and at shows when I was just 5). I am also an eBay consultant, author, and teacher. My products and tools will teach you how to sell online with eBay while staying organized, turning a profit, and having fun!
I love selling on eBay and can't stop-- some people think I am addicted! In 2012, I sold $101,900 worth of unique items on eBay and I want to help you do the same by teaching you how to sell on eBay.
I've made my living buying and selling unique one-of-a-kind items on eBay and you can sell online, too. Selling on eBay is an enjoyable experience that anyone can learn when you have the right teacher. I will show you which items to buy, how to sell on eBay, and so much more.
Please sign up for my free newsletter that is filled with fun tips and tricks.
---
Watch Lynn on Spike TV's Hit Series "Thrift Hunters"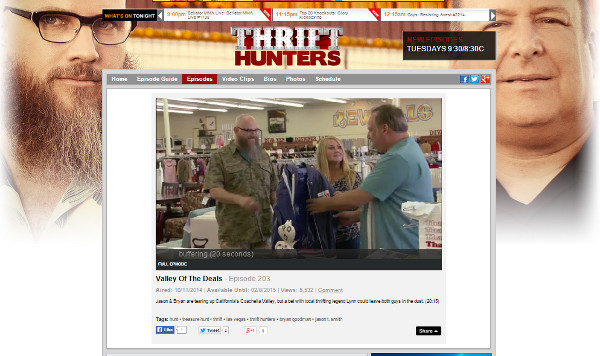 ---
How to Sell On eBay
Top how-to product recommendations to learn at your own pace
BEGINNER
Six Steps to eBay Success
Learn how to sell on eBay with this six step downloadable course will walk you through the entire selling process from finding items, to listing them, to collecting money and finally shipping them. With actual lessons, homework and tasks to perform you will soon be on your way to eBay success. This step-by-step how-to e-course is perfect for the beginning to intermediate seller.
More Information or Buy Now >>
INTERMEDIATE
Dinnerware Success : Selling Dinnerware on eBay
Join the crowd of people who have discovered that selling dinnerware on eBay is a great profit center for their business. My new Dinnerware Success eBook will show you how you can add this profitable category to your eBay sales. This is an eBook available for instant download.
More Information or Buy Now >>
PRO
eBay Boot Camp in a Box from Training Series 2010
Whether you're an experienced eBay seller or a novice, if you want to succeed in the shortest time possible, this course that we have put together is for you. My proven system allows you to build a MONEY MAKING eBay business in less time AND avoid many of the common pitfalls sellers make.
More Information or Buy Now >>


---
Become a Queen's Court Member
Read what Queen's Court Members & eBay students have to say:
"I have purchased several of Lynn's eBay books and her online "Six Steps to eBay Success with eBay." It has definitely increased my sales. She has been an inspiration to me ..." - Genia 3/14/2009
"Her streamlined method, sincere, caring, positive attitude and Queen's Court, e-zines, teleseminars, and DVD's have helped me to get to where I am and give me hope for a bright future."  - Jude 3/10/2009
"I had received my Dinnerware eBook a couple of weeks ago. My husband and I went to an estate sale the very end of January. My husband was freaking out because I was spending $100 for a set of stoneware. I told him I was going to put them on E-Bay and he just said, "I hope you get your $100 back." I DID! One sale at auction added up to $386.39. Then I also sold a teapot for $53.00 and 3 salad plates @ $14.99 each. Grand total so far is $484.36 and I still have a lot of pieces left. WOW! I just wanted to thank you so much for all your help. This certainly paid for my eBook and way more. Thanks a bunch!!" - Linda Bostock