Cash for Cutlery
What to buy, what to stay away from and how to price them!
Cash for Cutlery is a 4-part series of teleseminars recorded for you to learn at your leisure. This training series turned out to be more than I even imagined it could be! Now's the time for you to join in and reap the benefits of adding this awesome profit center to your eBay business.
Here is the original outline of the topics for each call… Of course, things changed a bit in each live call :-) but only for the better!
Call #1:
Welcome & Overview of the series
Flatware Sourcing Examples to get us Motivated!
Changes to Manufacturers to Always Buy
Questions regarding Manufacturers and Out of the Box Examples
Call #2:
Welcome & Overview
Updates from last week
Flatware Sourcing Examples of Always Buys to get us Motivated!
Changes to Tricky Manufacturers
Flatware Sourcing Examples of Tricky Manufacturers
Styles/Pattern to Always Buy
Never Buy Manufacturers
Questions
Call #3
Welcome & Overview
Update from Last Week
New Flatware Sets
Listing Strategies
Actual Listing
What to do After the Auction Ends—Store
How to Ship
Questions
Call #4
Welcome & Overview
Results from the past month
Questions from being out in the trenches
Auction Critiques for Student Listings
Wrap Up
Check out some of the comments I received from folks who have already purchased this series:
"Lynn – I just finished listening to the last cutlery call and it was OUTSTANDING! So much fun with you, Mo and your Mom all being there! I've thoroughly enjoyed every session and learned so much!" – Pam Clayton

"Lynn – Cash from Cutlery was a WONDERFUL series — I learned so much! Thank you so much for all that you do! Take care, – Mindy"

"Congratulations on a stimulating and successful teleseminar series. A big thank you for all your hard work! Lynn, you make everything fun! I Learned a lot Thanks!" – Fran Rawden, Vermont

"I wanted to let you know that since your Cash for Cutlery calls started I have sold 9 pieces of flatware with the help of your GREAT methods! So I am off to a great start with flatware. Thank you!" – Melanie Gray
During Call #3 (which I think was one of our best CALLs of any type EVER), I wasn't seeing any emails with questions or comments coming in from our listeners. That always makes me a little nervous...so I gave a shout out..."Is there anyone out there?"
Check out the subject lines from the emails that poured in…
"I'm Here and Learning LOTS!"……Bev Helton

"LISTENING…A Lot of GREAT Information!"……Staci

"Awesome session! Learning SO much!! Thanks!"……Gail Nowak

"Call Sounds Great Today……! Fascinating Stuff!!!"……Sheila

"Listening and Taking Notes, Really GREAT Information!……Thank You!"…… Melanie in Colorado

Wow! That made me feel great and so happy that I poured my heart and soul into our teleseminar series, "Cash from Cutlery". Don't miss out!
When I emailed Sheila to ask if I could use what she said as a testimonial…look what I got back :-)
"Of course! You may also add that having listened to the webinars so far has increased my enthusiasm for selling in general. Sometimes I think I get a bit jaded when I'm plugging away on my own.

Seeing your success makes me realize that I can do it too. Since last week's episode I have set up some email alerts and I have even got a silverplated set from a consignor that I may buy outright. So I am going to practice what you preached in the last 2 episodes!

In addition, I have sold some Oneida Community Frostfire forks that I listed and sold since your first webinar. That's the 2nd lot. First sale of 3, and then this sale of 2!!

Sheila"
But why are we calling it Cash for Cutlery? Cutlery is what flatware is called in Europe…the origin of our flatware, silverware, and all sorts of eating utensils…whatever you want to call it…Cutlery is the original western word!
In the past 90 days on eBay I have sold $2,785.49 in cutlery/flatware. This translates to $928.49 per month.
To recap the benefits of selling flatware/cutlery:
You invest much less money when purchasing flatware
Cutlery is faster to list than dinnerware
Flatware takes up less space
Flatware is a breeze to ship.
After my kids both leave for college, I am seriously considering focusing on flatware. It is a joy!
Check out this flatware that I found last week at a thrift store. No maker's mark. Would you have purchased the two bundles for $9.99 and $14.99? I explained more about these cutlery pieces on Call #4 and whether or not you should buy them. Don't miss out!
The Flatware Success eBook is one of our top-selling and most helpful tools of all time; I am really happy that it has done so much to increase your bottom line profits.
Since the flatware eBook came out in 2011, there have been major changes to my system of listing and selling flatware. It has evolved and improved over the past years. The improvements include CHANGES to:
Brands to always buy
Tricky brands
Brands to never buy
Research and new sources for doing so
How to structure and strategize your listings (this has completely changed)…Markdown Manager, Best Offer, etc.
How our flatware selling strategy has changed with eBay's new defect policy
Shipping pricing, materials and methods
So without further ado, I am very excited to tell you more about our newest teaching tool "Cash from Cutlery". Think of it as an updated companion resource to the Flatware Success eBook, but it is audio instead of the written word.
My new audio and slide series is seriously the BEST thing I have done in a while. I have poured my heart and soul into it and I think you are CRAZY if you don't already own it.
Check out this email I got from Denise with the subject "So excited!!!" as soon as we announced this new series….
I was listening to three of the four calls from the "Dinnerware to Dollars" series driving a U-Haul truck from Indiana to Florida and I was thinking the whole time, "Man I hope Lynn does this same format with flatware!!" And WA-LA two days later here is the email I have been waiting for!! I hope I am one of the first to purchase your new "Cash to Cutlery" series because I was so psyched about your "Dinnerware to Dollars" series!! I would tell everyone, DO NOT HESITATE TO BUY ONE OR BOTH OF THESE SERIES, AS THEY WILL PAY FOR THEMSELVES IN ONE SOURCING TRIP!!! I love the simple format of these series- What to buy, what to stay away from and how to price them!! Thanks Lynn for another winning series that I can't wait to listen to and profit from!!

Denise Hunter!!
The price for "Cash from Cutlery" is a bargain and a fraction of what I sell each month in flatware. Join me in enjoying the benefits of this fun and profitable eBay category.
As an example, check out these 2 forks that I sold this week for $54.05. Yes, I did say $54.05 for just 2 forks!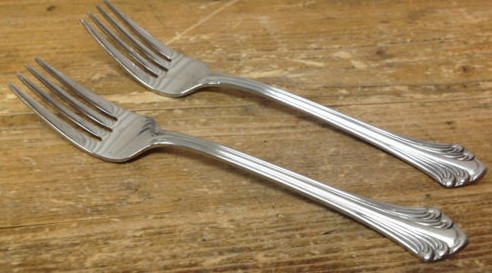 Once you sign up, you will receive an email with instructions for the immediate downloads and slide show.
P.S. This series will provide you with information and answers that can help you to make money!
P.P.S. If you are unable to make one or all of the calls, don't worry, the calls will be recorded and available for listening after the call.
P.P.P.S. This teleseminar series is an investment in you and your business. It is also a tax-deductible business expense (as always, check with your accountant.) Order now.
P.P.P.P.S. This information would be a bargain at three times the price! This is full of experience gained over a lifetime. Reserve your place today!