Flatware Success!
Do you feel overwhelmed when you see a shelf of flatware like this one at one of my local thrift stores? Well, you won't anymore if you order my fantastic Flatware e-Book. You will be well on your way to flatware success! The entire ebook is finished and ready for immediate download.
Check out this email I received from Vicki Penne before the 5 volume ebook was completed—it is almost 400 pages of great info!
Hi Lynn,

I've been eagerly awaiting the next volume of your flatware e-book, I was so glad that it arrived this evening! The first one was sooo informative and as a newbie in the flatware department, I can use all the help I can get! I wanted to thank you for the nice note about my donations to to brain cancer research. It makes me feel good to help such a great cause and to help find a cure for such a horrible disease. The ironic thing about the timing of receiving this e-book today are two-fold:

1. You mention Cambridge Aztec right up front as a tricky pattern. I found this pattern when I was in Palm Desert last month at one of the Goodwills. Greg told me that it wouldn't sell. He just doesn't get the flatware thing! :) I knew it was a cool pattern when I saw it. I got home and researched it and saw it was a good pattern, yeah! But seeing it here in your e-book game me further validation. I immediately pulled Greg over to take a look at what you wrote about the pattern, and I said "I told ya so!" :)

2. I sold that exact Gourmet Settings teaspoon listing today that you refer to in the ebook! Can you believe it?!

Thanks for all you do for me and so many other eBayers and wanna-be eBayers. I refer everyone to you who asks me about getting started selling on eBay!

-Vicki
I've been hard at work putting my years of experience into my eBook Flatware Success Story. I want to share my secrets with you so that my success story can be your success story.
I can't believe how awesome this guide to buying and selling flatware turned out. I even learned more even while I'm writing it.
The beauty of an eBook is that we can use color pictures, link to important web pages and add video clips in important places!!!! It is so cool and I am very proud of this eBook. I know that this is going to make those of you who are smart enough to purchase it a lot of money!!!! Click here to order now.
Flatware, Silverware, whatever you want to call it, these items are another of the cornerstones of my business on eBay. You might even call them the bread and butter (knife)! Ha Ha. Anyway, I talk a lot about flatware, teach about it and feature it in my Live Boot Camps, but I knew that a complete eBook was a necessity.
Do you remember this set of Thistle stainless from my fourth 100 Best Book, Home Run? I paid $25.00 and it sold for $468.58 in 49 auctions! Wow!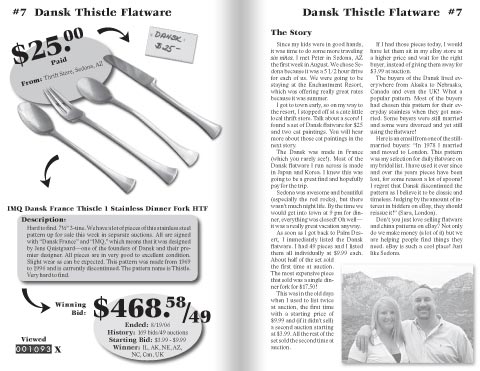 Wouldn't you like to make over $440.00 on one set of flatware? Well, I want to help you accomplish that!
Order yours now! Click here.
Order in three payments here.
Why is flatware such a lucrative category on eBay? Well, that is the easy part of all of this. The demand for flatware is constant. There is also flatware to be found everywhere; in your home, in thrift stores, and at garage sales. The demand and the supply is already there--all you need to be successful are the tools that I am going to teach you.
Check out this silverplated tea set that I bought for $150.00. Yes, we will cover items like this (that are known in the business as "hollowware") in the eBook.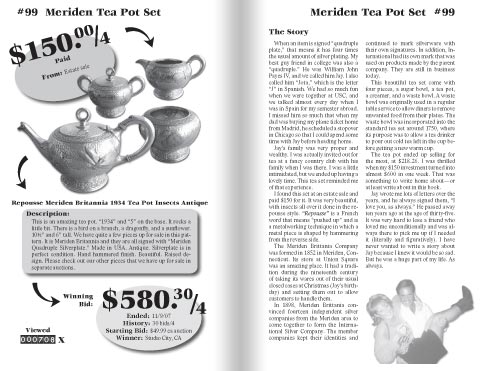 It sold for $580.30 at auction!
The profit on any ONE of those four items would more than pay for my flatware eBook. And, once again I am pouring my heart and soul into writing this. That is why it turned out to be so many pages.
The entire ebook is available for immediate download. Click here to order now.
Now that you understand the huge demand for flatware and the fact that you see it almost everywhere, you may be asking why I would want to share all these secrets with you. My desire has always been to share what I know with others. I don't want you to make the same mistakes that I have already made and learned from.
We are going to cover the gamut in this special five-part eBook. We will look at best brands, best patterns, great themes, and then talk about where to find flatware, different definitions, research, photography and finally how to market it. And I am going to put my technique to the test with a shopping and listing spree. Let's see how I do!
Order now. We even have a 3-part sales plan! Order in three payments here.