Cash for COFFEE MUGS
One Coffee Mug Score can pay for this eBook!
Cash for Coffee Mugs is Finished! It was a long work in progress and I am very proud of the way it turned out....all 435 pages of insider tips & tricks!
Check out this email I just got from Ruthann.
"Lynn, I think you outdid yourself on the Coffee Mug eBook. So very interesting. I could not stop reading! Thank you!"
And this email,
"Hi Lynn--I was very excited to get your Cash for Coffee Mugs. It certainly didn't disappoint. It is very informative and entertaining. I will definitely be listing more Coffee Mugs on eBay in the future. Thank you for your informative book. I have read several of your books and you have definitely been an inspiration to me in selling on eBay. Keep up the good work. Jean Mackey"
Volume 1...(125 pages)
Introduction
Overview
History of Coffee Mugs
What You Need to Know About Coffee Mugs & Licensing
Rise of Coffee Mug Demand
My Numbers -- Inventory by Year, etc…
Where to buy?
Estate Sales
Thrift Stores
Garage Sales
What Should You Pay?
What to Look For:
Brands to Always Buy
Volume 2.... (150 pages)
Questionable Brands
Garage Entrepreneurs
Brands to Never Buy
Volume 3..... (160 Pages)
Great Subject Matter
How to Price?
Shipping
How to Assembly Line List
Sizes and Ounces
Promotional Strategies
Let's Put this to the Test
Conclusion
Check out another email I received from William....
"Hi Lynn, I enjoy reading about you, the family and the many ways to be successful on eBay. We sell in different arenas but I find some of your methods can be applied to my area. Many thanks for all of your suggestions and comments in the Coffee Mug eBook! Sincerely, William"
And I must share the funniest testimonial I got which was from Paula Swenson, a retired Guidance Counselor...
"I read Volume 2 and there is only one thing worse than a *** mug or a *** mug. Of course you already figured it out. It's a **** mug!"
You will just have to purchase the coffee mug eBook series to find out this BIG secret! AND it is just one price for all 3 volumes!
Don't miss out now. One coffee mug score can more than pay for this eBook. Plus it is pretty fun reading!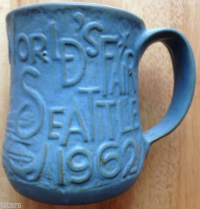 Check out this recent coffee mug score from my new eBay friend (Anthony L. Draper, Esq., Chesapeake, VA) who let me share one of his scores in the eBook. Click here to see this auction. If the auction has expired just realize that this mug sold for $149.99! Now that is some SERIOUS CASH FROM A COFFEE MUG
And this awesome email just came in...
Hey Lynn! Thanks for this final volume of Cash for Coffee Mugs, it was great reading and VERY informative. I will be actively looking for those 'must buy' coffee mugs and can't wait to see if my new pricing strategy attracts more sales! Thanks again for this and your monthly ezine!
Regards, Janice Berg (MamalamaNC)
P.S. Coffee mugs are easy to find, cheap to purchase, easy to list, easy to store, easy to ship and can make you big bucks!
P.P.S. Just recently, one of my QC members sold a John Wayne coffee mug for $2,500? Don't delay! Order now.