Write-Up Rodeo
Our new video, Write-Up Rodeo is the 4th video in our training series. Mo and I had a blast filming this with my daughter Indy, and now she has edited this hour-long video with her great eye and fun sound effects.
Write-Up Rodeo will walk you through how to write up your weekly purchases and get ready to list quickly.
It will be very similar to the live Boot Bamp section called "Initial Write Up" with Lynn & Mor Mor. But this time, we have me, Mo and Indy.
Since we are not having any more Live Boot Camps, it is my hope that these training videos will keep you all updated and knowledgeable.
Check out this email I received recently from Cindy after she watched Write-Up Rodeo:
Hi Lynn -
Just wanted to let you know that I watched the video this afternoon. Great stuff! Learned a lot, and when I wrote up some I Sell sheets after watching it, the process went much faster!
Thanks, as always for the wonderful tips, and for the motivation to list, list, list!
I am up to just over 750 items now.
- Cindy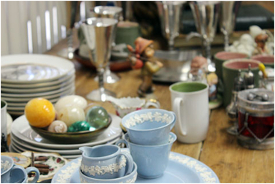 Thank you to Cindy! And to all of you who are learning from us. It is really a great feeling to know that we can make a difference in your income!
In this new video, I show a table full of items and how Mo and I write up 61 items in 61 minutes!
Write-Up Rodeo is available NOW! Don't miss the Rodeo!