The Shooting Gallery
As you may already know, I sold $4,121.00 in the past seven days on eBay! And this was during a typically slow time period, February 25th to March 3rd of 2014.
How did I do it?
Assembly-line listing, which begins with quick research — Research Round-Up, quick write ups — Write-Up Rodeo, and in The Shooting Gallery, quick photography and quick listings. To make money on eBay you have to be fast. Time = Money
The Shooting Gallery, is the 5th video in our training series showing you how to assembly-line list. This online or downloadable video is 90 minutes long.
Check out this email I just got from a viewer...
"Lynn, I was just watching your shooting gallery video. Love it! What would you do without Indy? She is awesome! I am impressed that you use your iphone for pictures, I will try that. Thanks!
- Colleen Goldstein"
Thank you to Colleen and to all of you who send in such nice emails!
The Shooting Gallery will walk you through how to photograph your weekly purchases in the best possible photo studio and get them quickly edited for listing.
In this video, you will learn:
Lynn's Top Tips for Taking eBay Photos
How to take your Photos as Quickly as Possible
Assembly Line Photography
How to Set up Your Photo Studio…(3 Different Examples)
How to control Your Light so it doesn't Control You
How to Crop & Name Your Photos Quickly
Assembly Line Editing
All of these tips and tricks will help YOU save time with your photography & editing. As we all know, time = money.
This video will be very similar to the live Boot Bamp section called "Photography" with Lynn & Lee But this time, we have me, Mor Mor and Indy.
Since we are not having any more Live Boot Camps, it is my hope that these training videos will keep you all updated and knowledgeable.
The Shooting Gallery is available for online viewing or download NOW.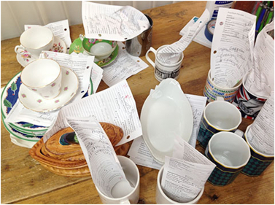 In this new online and downloadable video, we show a table full of items at Headquarters and how we quickly photograph them all.
Then we show you the remaining two areas (in addition to Headquarters) that I use for my photography. It is our hope that by seeing these three different scenarios, you will be able to help make your current photo studio better and more time efficient.
Finally, we move production to my home office where we download the images, choose the best, crop and save faster than a speeding bullet!
The Shooting Gallery is here! Don't miss that shot!