'Are Coffee Mugs Trash or Treasure?'
by Lynn Dralle, The Queen of Auctions
As I was prepping for EOL (eBay on Location in Florida) and my speaking engagement there, I started making a list of unusual things that I had sold recently.
I know that this is not a huge score, but the fact that it sold and sold for over $10 is very cool.
See the listing here
.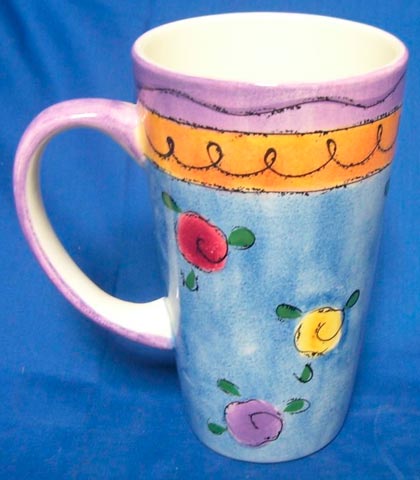 I was thinking about some of the crazier coffee mugs I've sold. I remembered a Starbucks travel coffee mug that I had sold for over $20 during the summer of 2006. Who knew? I had originally learned of the non-vintage coffee mug potential during my first eBay Boot Camp that was held in Palm Springs in 2006--Thanks CJ!
Starbucks Bas Relief World Map Travel Coffee Mug
that sold for a little over $20!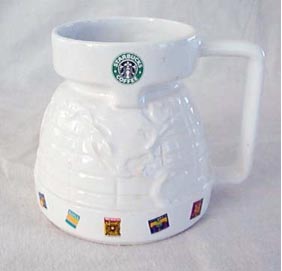 And, in More 100 Best Things I've Sold on eBay Money Making Madness, I discuss a coffee mug that originally came from my grandmother's kitchen cabinet. Now, I knew this coffee mug had potential because it was vintage and jadeite. Here is that excerpt from the book with story #49.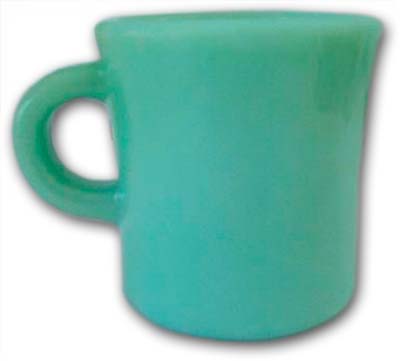 The Story
I have never had a cup of coffee in my life. OK, I take that back. I had one cup of coffee in Paris in 1985, and it was laced with brandy. It was snowing, I was freezing, and my friends Juliette and Vicki said it would warm me up. It did warm me up, but I still can't stand the taste of coffee. Instead, I drink about six Diet Cokes every day to get my dose of caffeine.
It's funny, but I didn't realize where I learned NOT to drink coffee until I was writing this story. This jadeite green coffee mug was in my grandmother's kitchen cupboard for years and years. It finally dawned on me that my grandmother NEVER drank coffee. No wonder I had no desire to try it or like it. I was following the lead of my favorite role model.
Anyway, I inherited it in one of my boxes. I thought one coffee mug was never going to sell for very much, but decided to do some research anyway. I knew it was jadeite by Fire King. Fire King was a group of ovenproof lines launched by Anchor Hocking in the early 1940s. Jadeite was named for its green color, which resembled jade; it became a signature item of the Fire King line. When I got on eBay, I found that these are super collectible. Three of the jadeite coffee mugs together had recently sold for $100! Each mug's handle curve is named for different letters of the alphabet–there are "c" and "d" curves. I guessed that mine was a "c" handle.
I put it on eBay with all of that information in the title. I started the bidding at $9.99 (my usual) and couldn't believe it when it got ten bids and sold for $36. It was shipped to Japan and the buyer paid $14 more for airmail shipping. My grandmother would have laughed and laughed over this one. She would have gotten such a kick out of it!
Another thing that she would have gotten a big kick out of was that she and I were appearing in an article in the Antique Trader that very same week. I had interviewed Sharon Korbeck, the editor of the Antique Trader, for my McGraw Hill book, and she thought that my grandmother and I would make a great story. It was written in the spring of 2004 and published at the end of July.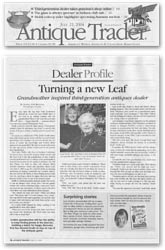 The Antique Trader was my grandmother's favorite magazine; she read it faithfully cover to cover every week. She would have been thrilled to pieces to be featured in this publication. I now include this wonderful article in each box that I ship out to my eBay buyers. I have heard such nice comments from my customers. Things like, "The article adds such a personal touch," and, "I feel like I know you and your grandma!" I'll bet they don't know that neither of us ever drank coffee!
If you liked that story, you will love all of my 100 Best Things I've Sold Books. Click here to learn more.
Another type of coffee mug that I have had successes with is anything Disney. Check out this Large Cheshire Cat Coffee Mug that I bought for $1.50 at my favorite thrift store and sold for nearly $15.00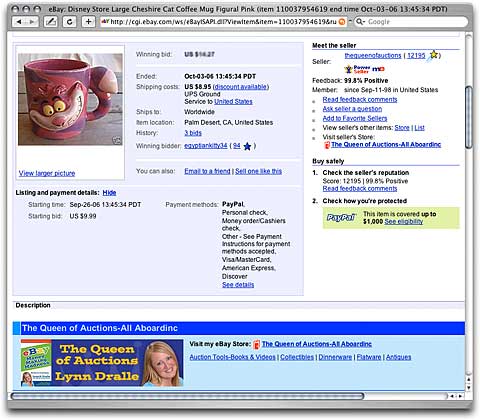 When you are shopping your thrift stores and garage sales, do not overlook the coffee mug sections. I think there are a lot of sleepers to be found in this arena. (By the way, a sleeper is what my grandmother used to call a bargain-–just waiting to be found!)
I have always told you to be wary of cups and saucers (they just don't sell as well anymore) and the trend is just what this article is about–coffee mugs are the collectible item replacing the teacup and saucer collectibles of yesteryear.
As I was doing my research (last two weeks completed auctions on eBay), here are some more types to be watching for…
A Bazooka Bubble Gum Fire King mug sold for $129.05!
A Snoopy Red Baron Fire King mug sold for $99.00!
A Burger King Fire King mug sold for $91.00!
A Google Coffee mug featuring Dilbert for $41.72!
And a few more shout out scores from the Queen's Court. Thank you QC!
Here is an email from Mandy,
Hi Lynn

I've been on a Swedish kick this week!! ALWAYS BUY SWEDISH anything! :)

Here is an Eames Era Stainless & Teak mug made in Sweden I found in GW for 1.99 & sold at auction with 3 bids and it ended at...Click here to find out! I started it at 24.95 thinking it was pretty good!

Mandy
Mandicrafts
Here is another email from Mandy,
Hi Lynn,

You specifically asked for Taylor & Ng & I had this one sell in July at auction for $89.88. I'd found it at Re-Use It for .25 cents. Cobalt horse CHEVAL from 1979 (original).

See the listing here.


I know Reta posted a score recently for a Taylor & Ng original too, & a different design.

Mandy
Mandicrafts
Wow! I got so many wonderful emails from other QC members. I couldn't add them all as I have to speak tomorrow morning at 5 am my time...so watch for more QC scores in the near future.This has been so much fun. OK one more. This one is from Victoria...
This one is pretty cool for it's history, and for my own personal link to the family

Paid 49 cents, sold for $21.87 to a buyer in Canada.

The Roy Roger's Victorville museum -- near Roy and Dale's retirement ranch in Apple Valley, CA -- was very popular with Roy's movie fans, but is probably best known for the fact that Roy's horse, Trigger, was stuffed and displayed there, as was Dale's horse Buttermilk, and Roy's German Shepherd, Bullet. Roy's son Dusty (Roy Jr.) closed the museum in 2003 and relocated it to Branson, Missouri, where it was run by his son Dustin. The museum did poorly there, and was permanently closed in December 2009. The museum's contents were auctioned by Christies in 2010, and Trigger was purchased by an Omaha TV station for $266,500.

I met Roy & Dale several times in the late 1970s, when I was working with Roy's daughter Cheryl (and her husband and their 4 children) in Los Angeles. During the 2 years I worked with Cheryl, I attended many family activities, as well as her youngest daughter's wedding. Roy and Dale were both extremely gracious, and Roy was an absolute hoot to talk with on virtually any subject. I have an old photo of myself standing next to Trigger, but have absolutely no idea where it is after all these years.

You can see this listing here.


-Victoria
Kitchen-Kitsch
Auction Girl Vintage
By the way, the QC came through for this ezine. They went out of their way to help me and I LOVE THEM. I will post more of their scores in upcoming ezine (as long as they approve…thanks QCers).
Bottom line: Try anything in a unique or fun coffee mug. They are usually cheap–25 cents to $1.00–and I don't think you can miss! And remember, even if it doesn't sell at auction, move it into your eBay store at $9.99 and I bet it will eventually sell!