As you know, we spent a week in Denver for Houston's baseball tournament. Houston's team took 6th place out of 31 teams. They played really well and we had a nice time. I even went go-cart racing (I was scared the entire time) and bobsledded down an alpine slide. I am living every day with gusto! Carpe Diem is my new motto!
My dad joined us so it was nice to spend time with him. The thrift stores were fantastic and I of course, packed an extra suitcase (that I bought at a thrift store

) to take up to Bellingham with me.
Here are Indy and I in the hotel lobby packing my vintage Fabergé Suitcase!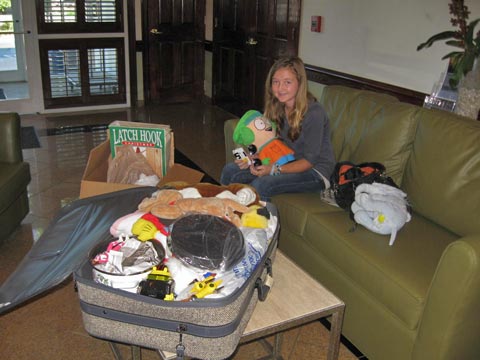 I haven't written an ezine in a while. There are many reasons for this, but the most important one concerns my sister Kristin. My little sister was diagnosed with small cell carcinoma (metastasized) on April 22nd. The first doctor gave her 12 months. She has since changed doctors.
We were in Bellingham to help watch her boys (Zach 5 and Kai 3) while she got chemo in Seattle, help her to clean out her garage, hold three garage sales and try and list as many things on eBay for her as we possibly could.
Here is one of our wild garage sales (before it opened,
with Indy unpacking and sorting), which many customers told us was,
"The best-organized garage sale they had ever seen."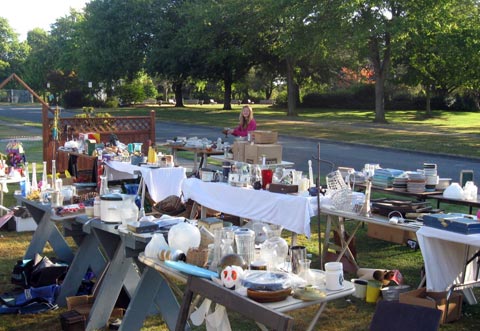 My sister and I also spent a lot of time going through the boxes she had inherited from my Grandmother. It was bittersweet. We laughed, we cried, we thanked our grandmother for leaving us so many great things. In one of the boxes, my sister found a test piece of Mideke pottery (a famous Bellingham potter). Serious score!
My sister couldn't wait to get that one listed! Check it out here
.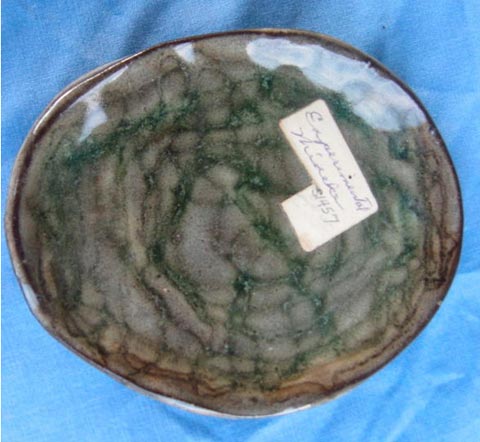 Please check out her other auctions here
.
I am also auctioning off a Boot Camp in a Box, all of my auction packages, and many of my other products to raise money for my sister. Please check these items out here
.
Even during tough times it was great hanging out with my family. My sister is an incredibly strong and brave woman and I know she can beat the odds on this one.
I got an email from a lady who had purchased the eBook on flatware and wondered if we had sent out volume 2 yet. I replied that I was working on it and we should have it done soon (the writing will be done on August 31st and formatting should take another week) but explained what was going on with my sister. Her reply was right on the money and I asked her if I could share this with you all...
I'm really sorry to hear about your sister. That puts a whole other spin on priorities - I've been there with my Dad. Hope all works out well with your sister.

Take all the time you need and spend as much time with your sister as you can. Life is too precious to take a 'rain check' on.

I was just worried that I had deleted the link when I was cleaning out my inbox.

My prayers are with you,
Ann
She was absolutely right. Life doesn't come with rain checks. I did stop and take more time with my family. eBooks, ezines and the elifestyle can wait. We all need to take more time away from our computers, our cell phones and all of those gadgets. Carpe Diem.
I was out to dinner recently with my family and looking around the table every person was either looking up something on the Internet, texting a friend or checking their emails. I said, "Stop, put all of your phones away...seriously what has this world come to? Do you even remember when there was no such thing as a cell phone?" Of course, my mom, dad, brother and sister did, but not my kids. We have a rule now that when sitting down for meals, cell phones must be turned off or left in the other room.
I got a great chance to spend more time with friends at my high school reunion while in Bellingham. It was a blast reconnecting with classmates I hadn't seen in years. My best friend from 6th grade (Melanie) and I hosted a "pre-func" (pre-function) for eight of our friends in our hotel room before the Friday night barbecue. What a blast!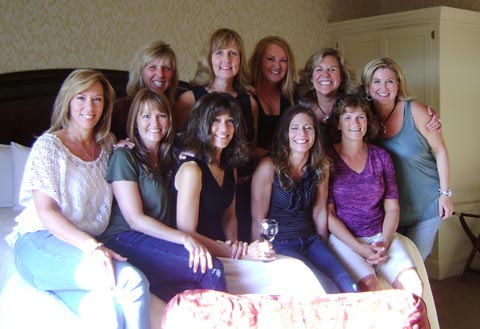 Saturday night was the main event. Then there was a family picnic on Sunday. I was able to drag the kids to that. There was a Civil War reenactment going on behind us. It was quite surreal.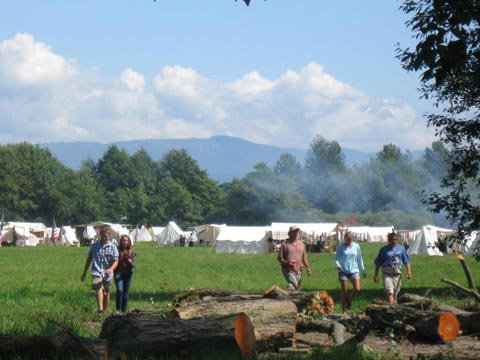 Here are Houston and Indy walking back to the picnic after checking out the Civil War. Apparently, the South was winning and Abraham Lincoln told my kids that his head hurt. Houston and Indy wanted to jump into the action and say, "Hello we are from the future." Kind of funny...yes or no?
Even though we were in town to help my sister, I wanted to give my kids and mom a break so we took a two-day trip to Victoria, B.C. What a blast! And guess who is headquartered in Victoria, Terapeak. One of my favorite research companies EVER.
We went out to breakfast with Denise and Matt, then they took us to their new headquarters. (They should start calling it HQ like we do.

) They were seeing their new HQ for the first time along with us! Seriously, it was an epic experience. Houston has decided he wants to move to Victoria and work for Terapeak, but of course his goals and aspirations change every minute. He is a teenager, mind you.

Here is a photo of my mom, Denise, Anthony (co-founder), me, Indy, Houston (eyes closed) and Matt. What an awesome experience!
Thanks Terapeak!
In between all of this craziness, my mom and I did manage to hit our favorite charity sale of the summer--The Lydia Place event held in the ice arena. I spotted a vase on the table with all the cheap dime store vases that I just knew was something special. My gut told me it was Moorcroft. I picked it up but with my vision getting so bad (and my refusal to wear readers), I thought it said that it had been purchased on the Queen Mary.
When I got it home and could actually read it, I was right about it being Morrcroft! It hadn't said, "Purchased on the Queen Mary," but, "Potters to the late Queen Mary." Yikes!
Here
is a link to that vase for which I paid $1.00.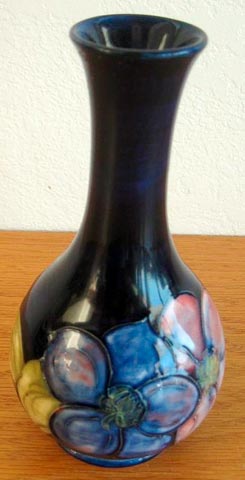 Score! It also gave me a great idea for an article this week. Why not write about my favorite art potters? My sister had just found a test piece of Mideke and here was this beautiful vase staring me in the face. Don't miss my feature article this week entitled "My favorite Art Potters--Moorcroft, Mideke, and Rookwood."
Speaking of Missing...there is still time to reserve a spot at my Live Boot Camp and not miss out!
This year's Live Boot Camp at HQ is going to be more important than ever before. The many eBay changes and how to deal with them will be our focus. You can reserve your seat now (remember, only FIVE FOUR spots left). Read more about it in the Special Announcement section. The detailed informational page can be found here.
A very important topic that we will be covering at Live Boot Camp and on last month's Queen's Court call, was the multiple auction listing regulations that are now being enforced. I had several auctions shut down a few weeks ago because my sell-through was not 30% on multiple auction listings. This has changed our strategy for listing. Mo and I have been having fun with it and believe that it will be saving us eBay fees in the long run.
My mom will be in town for Live Boot Camp. I can't wait for her to get to town early to help us whip Headquarters into shape. I did NOT make it through the Alps so those of you attending Live Boot Camp will get a chance to view it in person. Bring your cameras! Maybe we can get a photo with us at the top with an American flag

.
Speaking of my mom, she is an amazing lady who turned 75 years old this past week! We had a really fun party for her and I have never laughed so hard in my life. Here is a family photo from the party.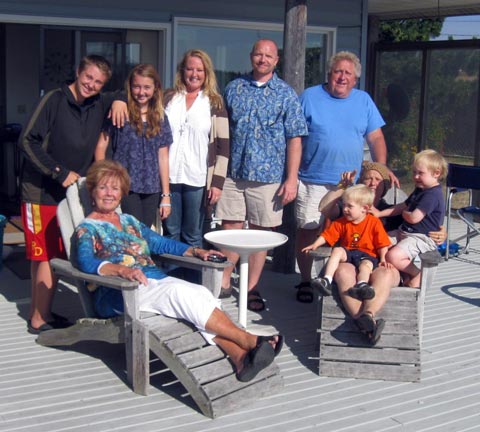 Also, before I forget, my mom's best friend from kindergarten, Verlaine, attended this epic event. She is so cute. She and her husband Ted are loyal ezine readers. She told me her goal was to be in my ezine. So here you go Verlaine. Here is Verlaine and my mom!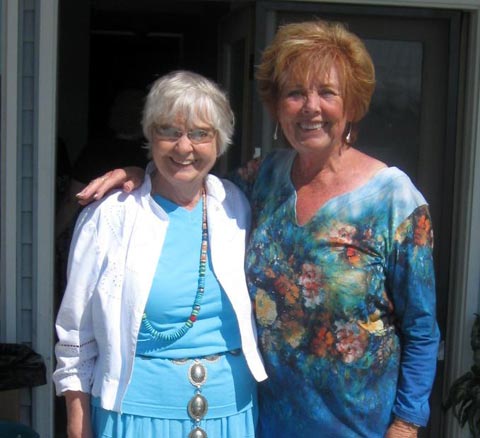 I had bought a tent at guess where? A garage sale! I was looking for one because my sister wanted it to camp out in with her boys. I paid $20 and thought that was a pretty good deal. Well, I am a STRANGER to camping. Not my thing at all. So, during my mom's party we asked some of the guests to put it together for Kristin. Apparently I had bought the tent but left the stakes and poles behind. I managed to contact the lady I bought it from, drive back to her house (an hour round trip) pick up the missing pieces and return to the party.
It then took eight adults over 2 1/2 hours to put together this tent. Yes, it was vintage! I took some video and have posted it on YouTube, but all you can hear is me hysterically laughing. Just as my brother and sister would get one side set up, the other would cave in. At one point my sister was laughing so hard she fell over on the ground. It was priceless! The best $20 I ever spent.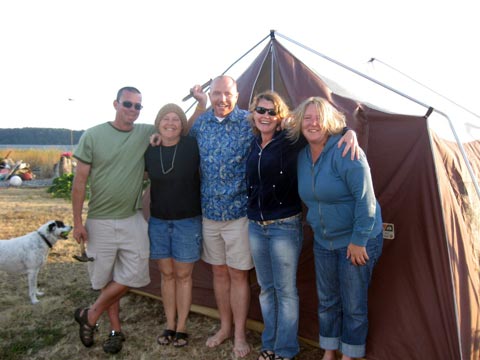 My sister's boys loved it and they spent one night in it. We should have taken it down and sold it at her garage sale but instead we took it down yesterday, put it out on the street with a free sign and it was gone in an instant.
As I was preparing for eBay on Location that takes place in Florida in about two weeks, I realized I needed to source some new merchandise for an example. I needed some cash quickly to buy some closeouts from a manufacturer. I remembered my credit line with Kabbage and boom, within seconds I had the money I needed. Kabbage is a wonderful place to access cash based on your selling history with either eBay or now Amazon. Great news--Amazon sellers are now eligible!
Kabbage looks at your sales history--not just your credit score-- and the cash advance is done in an instant. The money can be in your PayPal account within seconds. To learn more and apply, please go here.
Here I am with the Kabbage team at my LOL event last March. This is an amazing company with great vision! They actually want to help online sellers!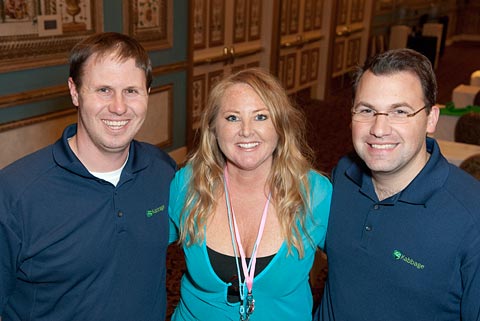 With everything going on, I have decided to focus more on The Queen's Court and it has become an even higher priority for me. We have some great news in our Lynn Recommends section. Don't miss reading this section!