'My Five Top Tips for Following Your Instincts When Sourcing'
by Lynn Dralle, The Queen of Auctions
I have had some incredible sourcing successes lately and I wanted to share my five top tips for following your instincts when out in the field.
A flashback to a Childhood memory
When I pick up something at an estate sale or garage sale and it reminds me of my childhood and it is cheap. I buy it!
My grandmother taught me that we are all trying to rebuy our childhoods. We all want to relive those idyllic days, don't we? Today as I sit in the dugout (because it is pouring rain during the Colorado tournament) writing this, I am amazed at how much fun the boys are having. I am also amazed that the coaches are letting us sit here. This will probably never happen again!
But back to the boys, someday, these boys will want to rebuy these golden days. Now that we are in the 2010s, the baby boomers have money and are trying to rebuy their childhoods. So think about those toys that were popular 20, 30 and 40 years ago.
Here is an example of an item I bought for 50 cents a while ago that totally reminded me of my childhood. It's a Wham-O Magic Window. It sold for a lot of money! Over 100 times what I paid for it. You can read about it in story number 59 in The 3rd 100 Best, Ka-Ching!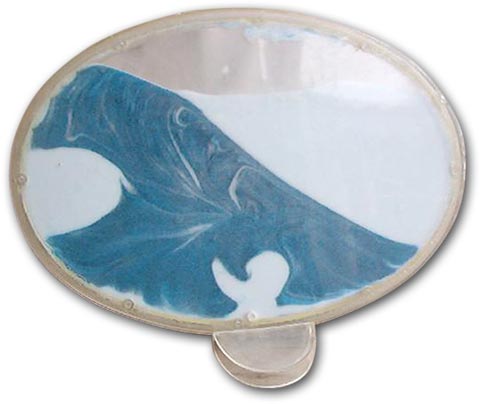 You recall that people collect these items
My friends Lori and Lou (Indy's best friend Paige's parents) collect a lot of things! Their house is decorated amazingly well with antiques and collectibles. When you are in their house you don't feel like it is overrun with their collections. It is very tastefully done. My grandmother always taught me that if you were going to collect and invest in antiques, you should enjoy your collections and display them.
So, as I was turning that pink and white paperweight over at the estate sale to check it out more closely, my mind went to the collection of paperweights that Lou and Lori display on an antique organ in one of their hallways.
And I also remembered that my Grandmother loved loved loved paperweights and also collected them. FYI paperweights were made to hold down the paper items on your desk to keep them from flying away in the breeze. It is amazing to me that over the years this utilitarian item has become a work of art--but only in certain cases--like mine!
Also, pink was my grandmother's favorite color. How could I pass up a rare pink and white paperweight? Funny thing was, I didn't realize it was rare until much later. Once again, I was following my gut instinct.
Most millefiore (it means thousands of flowers) paperweights are colorful--often in primary colors. It didn't dawn on me until the emails starting coming in that there was something very rare about a pink and white paperweight.
Here is another photo of the paperweight. My original title was Vintage Paperweight Venetian Millefiore Italy RARE Art Glass. As you can tell, I really knew nothing about it. It didn't even turn out to be Italian!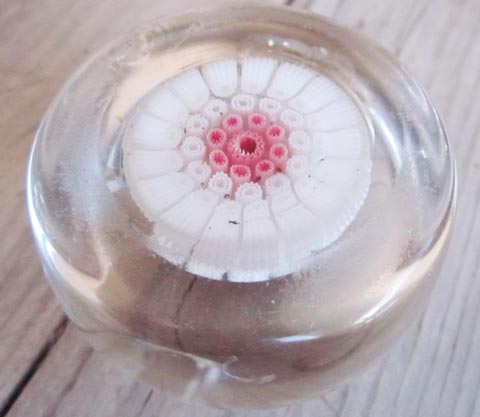 Here is the first question I received about an hour after listing the paperweight.
"Will you please end this listing and accept my offer of $150?"
I replied that, "No, I can't end this auction early as I have had too much interest and don't want to upset my customers. Thanks. Lynn"
Then this email came in the next morning from a different eBayer. (There are some real nice people on eBay, aren't there?)
"I just want to let you know that this is a rare paperweight and people are going to ask you to shut down the auction early and accept offers. I recommend that you don't do this."
I asked that eBayer why it might be rare and here is their response.
Dear thequeenofauctions,

I think it may have been made by the Gillinder Glass Company in Pennsylvania around the 1860s or 1870s.
Wow! With that info I was able to change both my title and description since there were no bids. If you can believe it, I started this auction at only $24.99!
New title and description:
OLD Glass Millefiori Paperweight RARE Pink Gillinder
Vintage Art Glass Millefiori Paperweight. This piece has some damage as can be seen in the photos and described below. We have been told that this is most likely an American Art Glass Paperweight by Gillinder Pennsyvlania and done in the 1860's to 1870's. 2 1/2" by 2 5/8" tall. 6 BRUISES and nicks to inside of glass. Could be popped bubbles on the inside. CHIP on base. Pink and white with clear glass. Neat piece. Shelf WS.
With my gut instinct to always buy what people collect, all that great info from eBayers, and my ability to change the listing, my $12 investment turned into over $400 with just 6 bids. Amazing!
Less than $50--but use your own judgment and have your own floor limit
OK folks, yes I have upped my floor limit. I don't do $5 anymore, I don't even do $10 nor $20. I will spend up to $50 on a whim WITHOUT research. You will have to decide on your own your limit of how much you will spend, but for me, I have raised mine to $50.
Here is an item that I invested $25.00 in to buy quite a few months ago. They were new-in-box Harley Davidson boots. Why not? I had to hold them for a while in my eBay store but they just sold this week for a nice return.
You can see this listing here
.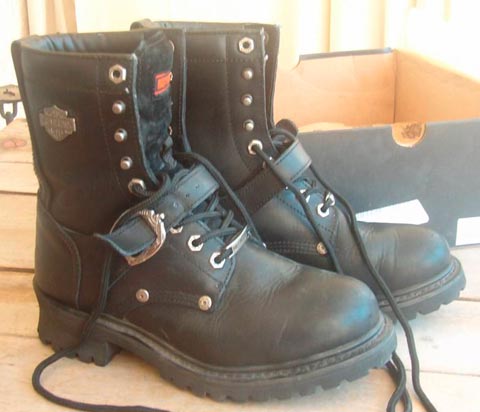 Unique
When I see something that is so unusual that I have never seen anything like it before and the price is right, I will buy it quickly.
Unique, unusual, or strange is always worth buying and usually sells well on eBay. I saw a set of three plush stuffed animal trophy heads at a garage sale this past December. They wanted $15 for the three. I thought that was a lot for them but I had never seen anything like these before. If you don't think used plush sells on eBay you should really check out my teleseminars with Debbie Ybarra. Actually, I need to invite her back for an update.
Instant download Volume I, $19.95
Order here.
Instant download Volume II, $19.95
Order here.
In any event, used plush sells incredibly well and I just sold two of these trophy heads for $30 each (I paid $5 each) and this one sold a few days ago at a different price point. Seriously amazing!
See this listing here
.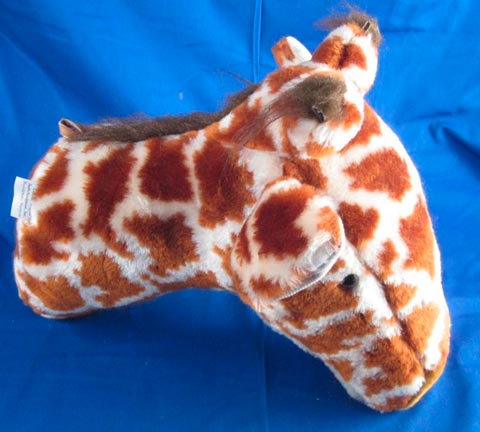 Batch Buying
Let's go back to that amazing estate sale where I got the paperweight on a Sunday. On that same Sunday, I saw a set of 21 perfumes that had been marked $295.00. The man running the sale said that I could have them for $75.00.
Well, I love buying in bulk, I also know that perfumes are highly collectible and at an average of less than $4 per piece, this was a no brainer.
Here is the perfume collection that I got for $75.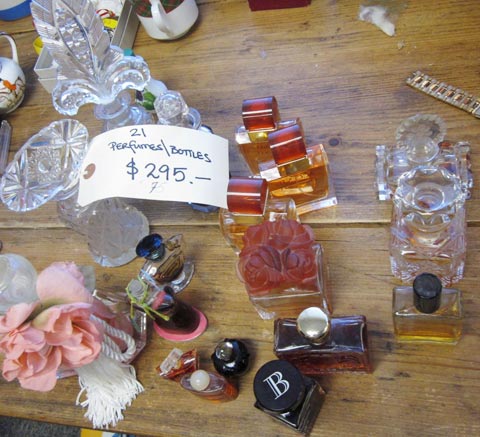 Here is one of those 21 perfumes that sold already. With getting ready to go out of town and finish my move, I only listed one out of the entire set

. Oh well, it sold for over $50. Almost paid for my entire purchase. Yay!
See the listing
here
.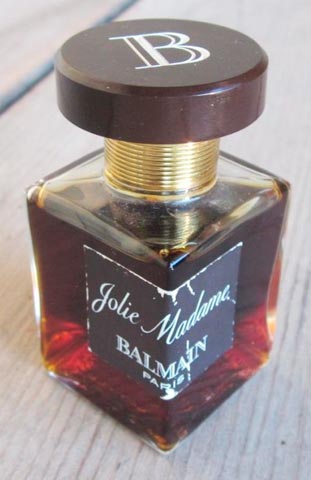 And while sitting in the dugout during the rain in Denver, I got a couple more perfumes listed while writing the newsletter.
See this listing here
.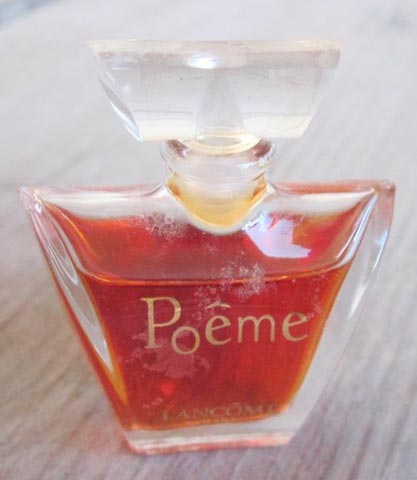 I had to share this really wonderful view from the dugout. I will probably never be allowed to do this again. That is Houston #22 leaning against the fence and I love the rainbow behind them to the right.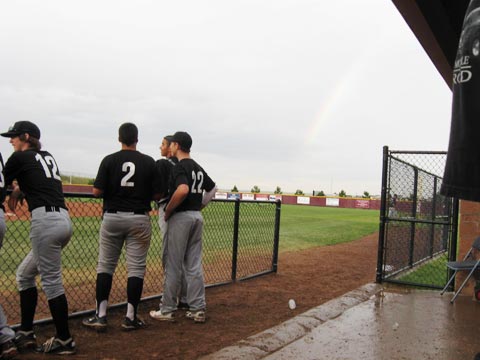 Love the rainbow behind the boys!
Remember, if you follow my five top tips for following your instincts when out sourcing, you will be successful selling on eBay. And also remember, my grandmother taught me you make your money in the buying. If you buy right, you can hold your item and wait for the right final purchase price. Don't be afraid to hold onto a wonderful item and get the highest price you can!
She also taught me that you can ALWAYS lower your price, but it is very difficult to raise it. I hope you find lots of rainbows after the rain and lots of great items to sell on eBay. I can't wait to hit the four thrift stores I saw while driving around today. Wish me luck!