Once again, I write this ezine as I am sitting at a baseball tournament--some things never change--thank goodness. I don't like too much change! This time I am in San Bernardino and there are 50 mph winds. A little difficult to work and write. But we will muddle through.
As you may have heard, I have been super focused on getting headquarters ready for
Live Boot Camp
. I want it to be perfect and I want to get through the Alps (the mountain of mechandise piled in the corner of HQ). This is after our
Queen's Court
call last week when I mentioned that I wanted everything to be perfect. Check out this email I got from Diva Dawn. It made me smile. She knew more about my to do list than I did

.
Subject: Are you Crazy???
Hi Lynn,

Great call last night. Lots of wonderful info as usual and with a very positive and empowering atmosphere.

However, I have to wonder -- are you totally NUTS???? I know you said that you work very well with deadlines looming and having lots on your plate, but, geesh lady, I know that you have all the following on your plate during the next 5 months, not including all the "mundane" and "normal" stuff that comes with having a home, 2 kids, a family, and a business:

Live Boot Camp in September
Flatware e-Book
Class Reunion
Annual trip to Bellingham
eBay Radio Party in June
Re-invigorating and streamlining HQ
Bi-Weekly Ezine
Baseball
QC ID posts and monthly call
Adjusting and reviewing all listings to make decisions/changes in compliance with Spring Seller Update

And now you're planning on getting through the Alps completely and HQ being "perfect" for Boot Camp?!!! How did you manage to clone yourself? LOL

Diva
Too funny! I had forgotten about the eBay Radio Party in June. How fun that I get to go to Vegas and teach with some of my favorite people; the list of speakers is fantastic! It includes Griff, Marsha Collier, Janelle Elms, Cliff Ennico, John Colder Ice, Debbie Levitt and Cindy Shebley.

Also, there will be great corporate sponsors in attendance. Kabbage, Doba, eBay, Page Mage, Ship Rush, Stamps.com and Terapeak. I am really hoping that my great friends from Terapeak (Denise and her crew) and Kabbage (Marc and his crew) are in Vegas. Terapeak and Kabbage made my Las Vegas LOL event a huge success. You guys are awesome and so are the services you provide to us eBayers!
I use Terapeak Now
almost everyday. It is a fantastic tool for quick pricing data and identification research. Terapeak gives you the QUICK guidance and even QUICKER pricing data you need to sell more items on eBay. I highly recommend it…and you guys know I don't recommend anything I don't use.
For more information, visit Terapeak and learn how they can help you!
I tried Kabbage for the first time several months ago. It is an awesome place to go and get CASH to help you grow your eBay business.
I just found out that Kabbage launched a new eBay App! Now you can utilize all the same great features of Kabbage without ever leaving your eBay account. If you download the eBay app today, Kabbage will send you a $5 Starbucks gift card. Don't forget to review the app to let Kabbage know how you like it!
If you haven't signed up yet for the eBay Radio Party, here is a link that I just got in an email from Lee Mirabel. The dates are June 22nd and 23rd at the Flamingo. Cost of admission is only $50 if you sign up now. See you there!
Speaking of eBay Radio, I was on this past Tuesday with Griff and Lee. Thanks, Griff and Lee! It was fun as always. If you missed that interview you can access it in the archives from the eBay Radio broadcast page here.
I had a great Easter week this year! First, one of my best friends from high school, Tina Burke Brown, was here staying at her second home. We went out to dinner one night and had a fantastic time catching up and talking about our upcoming High School Reunion this summer. We spent most of the time on my phone looking at the Facebook posts from our former classmates and cracking up! It was a blast.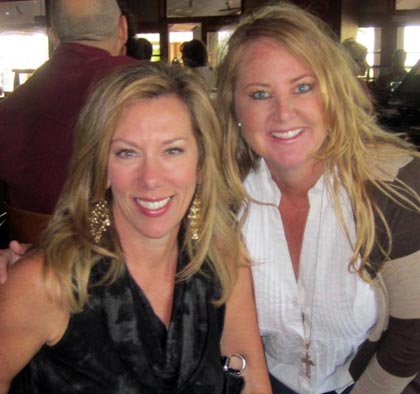 Here are Tina and I at dinner.
Then on Easter I spent the day at a BBQ out here at a country club with my best friend from college, Juliette, her ex-husband, her two kids, my ex-husband and my two kids. Strange but true!
Here are Indiana and Juliette's daughter, Talia, running through the sprinklers. Indy is 12 years old and Talia 8 (quite an age difference when you are that little) but the lure of a sprinkler on a hot day makes anyone best friends!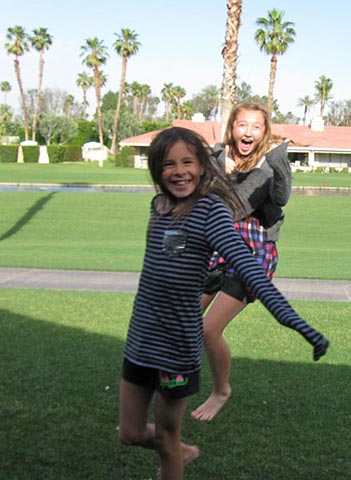 I have been spending a lot of time at Headquarters and working diligently to get it "perfect" for Live Boot Camp. I even opened my first box as I attempt to get through the "Alps."


Here is a photo of me opening that first box.
It was one of the boxes that I inherited from my grandmother and it was so fitting that the first box actually had a program from her memorial service, a baggie full of postage stamps (she was so smart she kept odd amounts of uncancelled postage stamps to reuse and make the exact amount--you would never catch my grandmother wasting money

), and a business card holder with her business cards.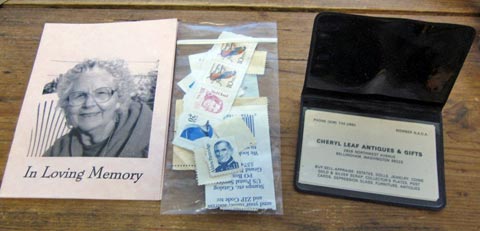 In that first box, I found an unusual part of a cast iron toy bank, a Bakelite brooch, and a lot of awesome ephemera (paper goods). I have the cast iron toy bank part listed. How exciting! I am saving the smaller items, like jewelry and paper, to list after July 6th when we start getting charged final value fees on s/h/I charges.
Those changes that take affect on July 6th make achieving and maintaining TRS (Top Rated Seller) status even more important. To prepare for this, I am doing a complete overhaul of HQ. Please read my feature article this week, called HQ REDO, to learn more about my strategies.
Speaking of HQ, as I was walking back to the office after picking up my mail from the locked mailbox, I saw that one of the letters was addressed to Barbara Sinatra of the Frank Sinatra Foundation. It really dawned on me how significant it was that Barbara Sinatra was getting mail at her old and my new place of business.
The Frank Sinatra Foundation had occupied my current Headquarters for many years prior. Wow! As I walked back through the front door of HQ I realized that not only had Barbara Sinatra spent time in this space but that Frank Sinatra had also. It made me realize that HQ is a special place where amazing things can and will happen!
It was really empowering! I hadn't thought of it in those terms before. I am such a history buff (of course

) that I started looking around my office area with new eyes.
I could do great things in this space and making it perfect was completely within my grasp. I was going to be more organized with my eBay business than I ever have been before. Those 3200 square feet are not going to go to waste!
Our dates for Live Boot Camp at HQ are now set in stone. Six people have signed up! YAY...You can reserve your seat now (only 14 spots left). Read more about it in the Special Announcement section. The detailed informational page is ready to read. Click here to learn more.
Back to my windy weekend in San Bernardino...20 Hours of travel baseball later. At 5 am we left the house on Saturday to return at 2 pm (that is 9 hours). Then on Sunday we left at 8 am to return at 9 pm (that is 13 hours). Well of course it doesn't add up to 20 hours, it adds up to 22 hours (Houston's number). Synchronicity.
In those 50 mph winds, we lost the first two games by one point each on Saturday and came back and won the three that mattered to take the championship on Sunday. Houston pitched only one inning on Saturday. Then he pitched six innings in a mercy (9 to 0 us) on Sunday…to a team that when Houston and his buddy Ian (the catcher) tried to warm up in the bullpen (there was only one bullpen for both teams), the other team's coaches told them to get lost..."This is our bullpen." Not nice!
The next game was tougher and they brought in Houston to close it down. He had to pitch three more innings. Yikes! Not good. But he did it, the boys worked as a team and they pulled out of a 5 to 4 disadvantage in the 7th and final inning and turned it into a 6 to 5 win. Amazing! I was watching from my car (which means I would occasionally glance up to see which team was running off the field leaping in the air for victory)!
The final game at 5:30 pm was crazy. We were ahead, got behind and entered the top of the 7 with a 5 to 6 deficit. Somehow the boys rallied and scored 4 runs. 9 to 6 going into the bottom of the 7th. We won! Long and hard fought 2-day battle in 50 mph winds. We are all still exhausted but it was fun!
Here are the little champions (well not so little anymore).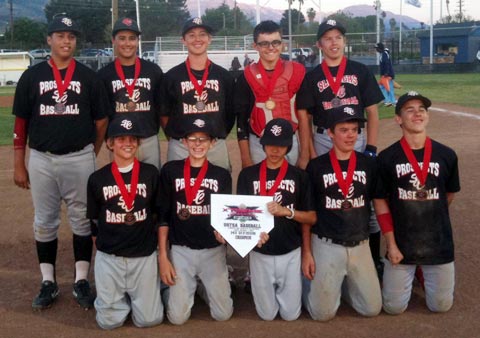 Update on LOL footage
The LOL footage is being edited by Jason and will be finished and shipped out in about two weeks. Mid-May is our target. Carmen has taken a peek at it and says the footage is fantastic!
Click here to learn more and place your pre-order. This set is going to rival Boot Camp in a Box and the final price will be going up accordingly.
Check out this email I just got from Nancy Kantor (Nancy is a Live Boot Camp and LOL graduate)!
Check out this email I just got from Nancy Kantor (Nancy is a Live Boot Camp and LOL graduate)!
Subject: Finally 1000 Listings!

Hi Lynn,

When I attended Boot Camp in 2009, I'd never had more than 150 items listed at a time. Usually I listed 20-25 items for auction per week. This week I got 99 items listed for auction and a bunch into store. It is really exciting to reach 1000.

Thanks for showing me the way.

Nancy Kantor
nancyauctionsnow
A big shout-out and thank you to Mel and Steve for all of their fantastic teaching about clothing at both LOL and on our teleseminars.
Click here to learn more about our great LOL DVD set including two great lessons by Mel and Steve on sourcing and selling clothing on eBay.
Because of Mel & Steve I just sold $100 worth of clothing over the weekend that I had paid $28 for. It was so exciting that I dragged Indy to Macy's in between baseball games but they didn't have any clearance rounders included in the sale

.
Here is one of the items that sold! I paid $8 for this in August of last year. I still have another left and with spring/summer coming up I think it will sell soon. I bought these items in middle of August when the season was over and now it is in season again.
Check out this flatware we just sold out of our store. Flatware is flying off the shelves. I love flatware because it is one of those items that you can easily offer with free shipping! Mo listed these three spoons (and we had quantity of two, so six spoons total) straight into our eBay store with FREE SHIPPING on 4/23/11. They sold for a best offer six days later on 4/29/11.
See this listing here
.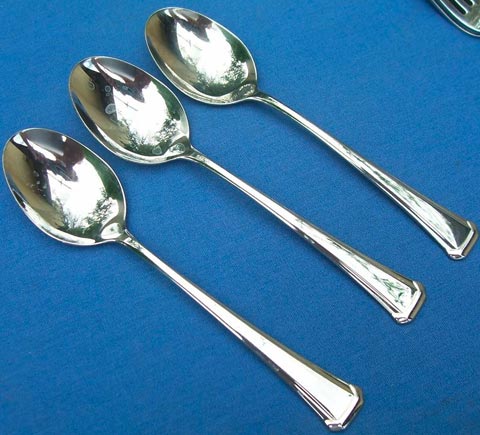 It only cost me $2.38 to ship all six spoons first class. Amazing!
I have started writing the flatware eBook! I am so excited about it. The initial outline is finished and I have started on the first section. Just like the Dinnerware Success eBook it will be delivered in three volumes. Section One will be out at the end of May. You can learn more and place your preorder in the Lynn Recommends Section.
The USPS raised rates on April 17th. It affected first class international and domestic. Media rates also increased. I have redone the rate chart and this download was the Queen's Court gift for April.
Please remember that eBay is requiring (and I have heard that it will start taking affect mid-May but won't be enforced until mid-August) that if you state that you ship internationally, you will need to quote a price. If you state that you do not ship internationally, you will be fine.
To order the new laminated USPS rate chart with free shipping, click here.
I just wanted to mention how much I love the eBay Deals of the Day. They are so much fun! And around Christmas time, I was shopping like crazy. I bought two of these satellite radio docking stations and realized I didn't need them both. I paid $12.95, which included shipping.
So, I listed one on eBay starting at $9.99. I also charged $14.95 for s/h/i. It is heavy! It sold for an amazing price! Check it out here
. I think I almost doubled my money. You can buy on eBay and resell. Wonders never cease!