'Decisions, Decisions...What to Do With Older Inventory
and the New eBay Changes'
by Lynn Dralle, The Queen of Auctions
One thing I took away from eBay on Location was how many of you are deleting slow moving and older inventory now. I have some advice for you about this.
eBay is changing the way it displays search results. Effective March 30th, all store items (which will automatically change to Fixed Price GUC) will now show up in the main core search! Store items will no longer be shown below auction items and will soon show up in the top portion of the results page. This is extremely exciting news.
1. Don't delete or edit until you have given the new search algorithms at least 30 days.
About 2-3 years ago, eBay let all store items show up in the core search for about 30 days. It was incredible! We sold soooooo much merchandise. We talked about this with Griff during the "Top Seller Panel" at eBay on Location. He said that it was amazing but that the eBay's systems couldn't handle it back then and that is why they had to turn it off. They were on overload! Griff also reminded us that this has been working in both England and Germany with fantastic results.
Because of this, I recommend waiting until at least 30 days have gone by before purging any of your slow selling inventory. Let's see if the same incredible sales that happened back then, happen to us now.
As an example, Carmen was purging our two-year-old merchandise to make room for new stock and this beautiful Majolica vase was ready to go to charity three weeks ago. I said "no way", I am keeping that and I put it in my living room.
Because of that, it didn't get taken off of eBay. And--NO WAY--it sold last week for a LOT of money.
See the eBay page here
.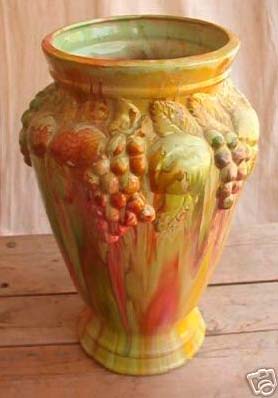 My advice is to just wait 30 more days before you begin editing. It really can't hurt you (at the most a small increase in fees) and it may really help your business.
2. Then use eBay's new Selling Manager Pro 'Slow Moving' feature to help you decide what to purge.
Once you have waited to see how the new search algorithm is going to affect your sales, then make your decisions on what to purge with detailed data. eBay now provides a section on "My eBay Summary" that is called "Without a Recent Sale" in the status section. eBay displays items here that have been listed on eBay for over 18 months with NO sales. Please see the computer screen shot below.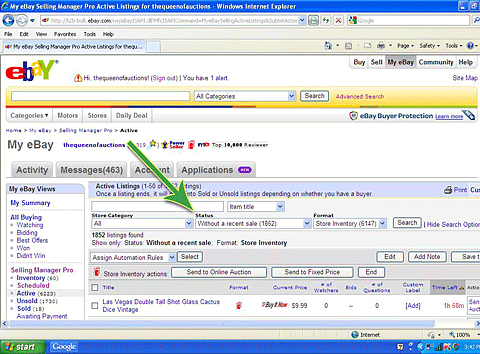 As you can see, I have 1852 items out of 6147 total store items (about 30%) that have not had a sale in the past 18 months. I believe in leaving my stock on eBay for two years (24 months) anyway, so will not be deleting any of this inventory right now.
This is a very powerful tool that eBay is providing us and I encourage you to use it when and if you decide to purge.
3. Finally, let those boxes of items headed for charity sit for a few weeks before you actually send them off
This is what prompted me to write this article. Carmen and Deborah had about twelve boxes of purged inventory items sitting by my front door two weekends ago waiting to be picked up by one of our local charities on Monday morning.
These items were 2 1/2 years old. We had decided to get rid of them and then not delete any more inventory until 30 days after the new search changes start.
I was at a baseball tournament and got a best offer of $5.00 each for 4 Vietri Stoneware plates. Normally, I would have said NO, but if you can believe it, and of course you can, these plates were sitting in those charity boxes by the front door!
See the sales page here
.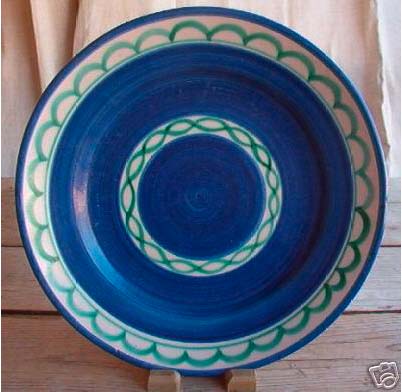 I quickly accepted her offer, and sent her a combined invoice with realistic yet decent (to me) s/h/I charges. She paid immediately and when I got home, I grabbed those four plates and put them on the eBay shipping table. Too funny!
It always amazes me how often this happens. Things that are taken off shelves and ready to go to charity (and because they haven't been deleted off of eBay yet) sell!
Here is my very STRANGE advice, get those boxes ready but put them in the garage for a few weeks before actually getting rid of them. After a few weeks, go ahead and do your eBay purging and send them to charity.
4. Re-purpose some of your older items into different style listings.
Mo has been doing this a lot lately and I decided to take her advice. If dinnerware or other items haven't sold in the quantities she had them listed, she changes those quantities and makes a new listing.
This can be very time consuming so I advise only doing it with higher priced quality items. However, I did this recently with some really neat red Asian inspired plates that I had listed as singles at $19.99 in my eBay store. I re-purposed them into twos and started the auctions at $9.99. Well, lo and behold, one of those auctions actually sold! You just never know.
See these plates here
.

I hope these four tips give you some ideas for how to deal with slow-moving inventory. I also encourage you to wait until after the new search algorithm takes affect to make any major changes. Good luck to you and I can't wait for the new changes!
Happy eBaying!
Lynn
---
Visit my eBay Store.
Visit my eBay auctions.
For more great eBay tips and stories, visit my web site at:
http://www.thequeenofauctions.com
---
WANT TO USE THIS ARTICLE IN YOUR EZINE OR ON YOUR WEBSITE? Yes, you may - just as long as you include all links as they are and append this complete blurb with it: The Queen of Auctions and eBay Power Seller, Lynn Dralle, publishes 'eBay Tips & Tricks' a weekly ezine with 10,000+ subscribers. If you're ready to jump start your eBay business, make more money and have more time, get your FRE E tips now at www.thequeenofauctions.com

We have a great story this week from Diva Dawn. Read below for Diva Dawn's Delightful Dion Deal.