This ezine is published every two weeks.
October 20th, 2011
Volume VII, Issue 16
Our new and improved Headquarters is sooooo awesome! We love all the space, the great furniture and the clean environment. Thank you to all of our Live Boot Camp grads for forcing us to get our act together!
We miss you all! But we had a fantastic wrap up phone call last night. It was a blast!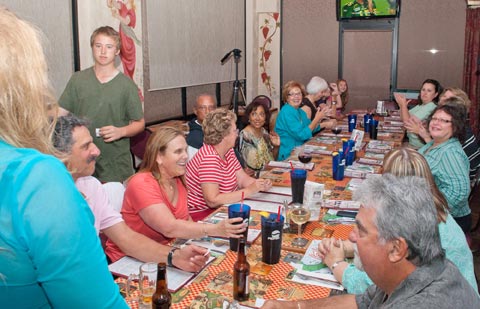 Here is the Live Boot Camp Dinner Party
and White Elephant Exchange
After a week of being out of town, I am back to work, settling in and getting ready for an incredible fall and Christmas season on eBay and Amazon.
I did spend a nice time in Bellingham attending Ed Souve's memorial service. It was a beautiful party that celebrated his life. Here is a picture of Ed's kids, Roger, Ryan and Melanie holding up their mom Ellie. I LOVE this picture--I took it!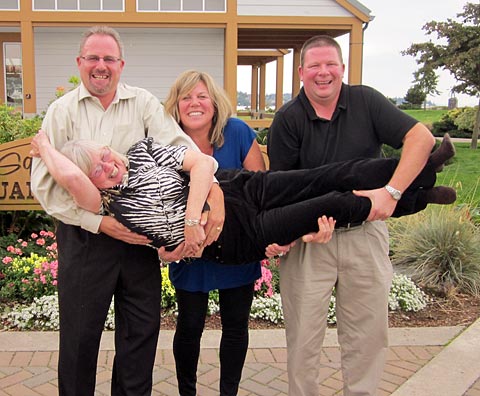 The Saturday of the memorial for Ed was crazy. I had just flown in on Friday night at 8 pm from Las Vegas, spent some time with my sister and then we headed out to my mom's beach house. At 8 am the next morning (Saturday), there is a pounding on my bedroom door...
"WE ARE GOING to this CHARITY SALE right now because it is where I found that napkin ring (from the Pilot Episode of Trash to Cash) that sold for $299." Yikes Mom, really! Finally a day I don't have to get up at the crack of dawn to drive my kids to school and you are chomping at the bit.
I get it...I get it and off we went.
We got to the sale and there wasn't much, but I did run into my friend Michelle (who sells books) and she told us about an awesome sale for a pet charity. Quick, jump back into the minivan and head out the Guide Meridian. All the while knowing that before Mel's dad's party started at noon we had to shop for food and drink for my sister's birthday party (that was taking place later that night), pick up a birthday cake, and get party favors for the kids that would be attending. No worries. We Dralles thrive under pressure.
We pull up to the pet charity sale and I say, "Dangnabbit, we should have been here first!" My mom and I both scored and got some amazing things. I couldn't believe it (because almost every dealer in town had already been through) but right there on a table in plain sight was a sterling silver collector's plate. Finding sterling these days is just like printing money. It was priced at $8. If you want to know more about metals and flatware You should seriously check out my Flatware Success eBook. The first and second volumes are out now, and there are two more volumes to follow. The price will be increasing on Monday night at midnight. Click here to learn more.
Check out this email that I received regarding volume two of the eBook:
Hi Lynn,

I've been eagerly awaiting the next volume of your flatware e-book, I was so glad that it arrived this evening! The first one was sooo informative and as a newbie in the flatware department, I can use all the help I can get!

I wanted to thank you for the nice note about my donations to brain cancer research. It makes me feel good to help such a great cause and to help find a cure for such a horrible disease.

The ironic thing about the timing of receiving this eBook today is two-fold:

1. You mention Cambridge Aztec right up front as a tricky pattern. I found this pattern when I was in Palm Desert last month at one of the Goodwills. Greg told me that it wouldn't sell. He just doesn't get the flatware thing! :) I knew it was a cool pattern when I saw it. I got home and researched it and saw it was a good pattern, yeah! But seeing it here in your e-book gave me further validation. I immediately pulled Greg over to take a look at what you wrote about the pattern, and I said, "I told ya so!" :)

2. I sold that exact Gourmet Settings teaspoon listing today! Can you believe it?! Thanks for all you do for me and so many other eBayers and wanna-be eBayers. I refer everyone to you who asks me about getting started selling on eBay!

-Vicki
So here is that plate that I picked up for $8. A Queen's Court member asked, "How did you know it was sterling?" If you can believe it, the plate was actually marked Sterling Silver on the back side. Nothing cryptic like .800 or some strange mark, just flat out "Sterling." Just like shooting fish in a barrel.
Here is the listing and what it sold for. WOW!
Here
is the listing on eBay.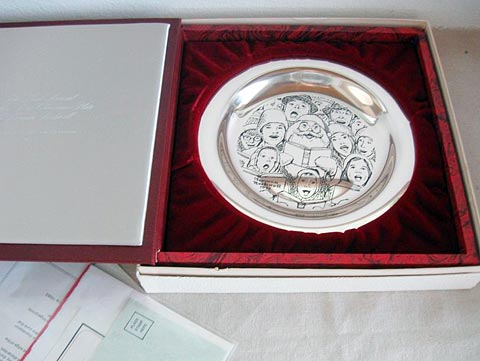 I told my mom that this plate was going to pay for all the food and drink that I would later be buying at Costco for my sister's birthday party. I was right! As I usually am

.
My sister's 42nd Birthday party was later that day and it was awesome. The cancer has spread to her bones and I know she is in pain, but she still put on a big smile and enjoyed the party.
Here is a fun photo from her birthday.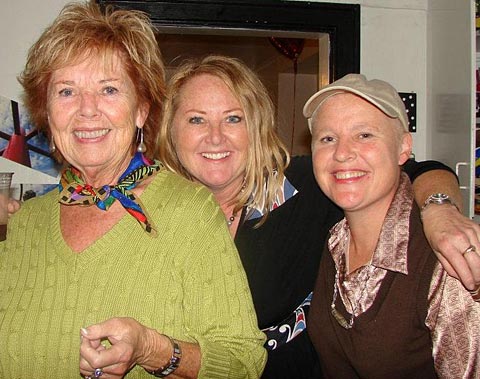 While I was in Bellingham (and during Live Boot Camp) I taught both my sister and my students about FBA (Fulfillment by Amazon). What a crazy new world to explore. I just sold my first item by FBA that I listed in front of my Live Boot Camp. How cool is that?
Here is the book that sold 4 days ago and one that just sold an hour ago. All fulfilled by Amazon. Super Awesome!
Healing Mudras: Yoga for Your Hands
| | | |
| --- | --- | --- |
| QTY: 1 | ASIN: 0345437586 | SKU: 0345437586-1316898002510 |
Le Cordon Bleu Complete Cook: Home Collection
| | | |
| --- | --- | --- |
| QTY: 1 | ASIN: 1571457151 | SKU: 1571457151-1316898002510 |
We truly must find a cure for all types of cancer. I am pleased to have been asked to Bling a Bra for the cause against Breast Cancer. Mo, Carmen and I put our heads together and came up with an awesome Bra that is for sale on eBay right now.
It ends at 2 pm on Thursday, so please bid now! Thanks for your support and thanks to the Bling My Bra Women for putting on this wonderful event.
Here
is the listing on eBay.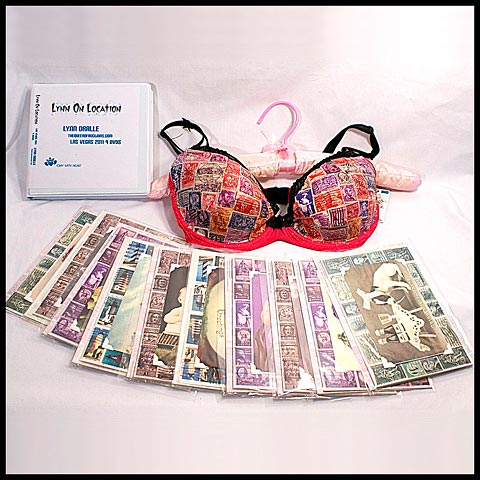 The teleseminar with Debbie Ybarra last week was awesome! As she usually is! Please read the Lynn recommends section to learn more. Because of Debbie and the teleseminar we have been selling a lot of plush. Check this one out!
Here
is the listing on eBay.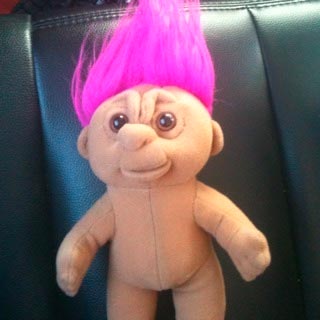 It's the stuffed animal that Indy listed in my car while driving to and from garage sales with the Live Boot Camp group from last year 2010. What a hoot!
The reviews for episode number two of the reality show were fantastic. Thank you to everyone who watched it and Thank you to our wonderful sponsors, Kabbage, WorthPoint (and The Queen of Auctions) for making this possible.
Episode number three featuring flatware and many other fun things is out! Please read the Special announcement section to get links to view it and Thank You to our new awesome sponsors, Auctane and Terapeak for making it happen!
Our new motto around here is to list it quickly and move it out. Turn and Burn or Pile it high and say Buy Bye. I have been digging into boxes like never before. I don't want to own sooooo much stuff! Money in the bank is a better choice.

Thank you Diva Dawn for inspiring me, I have now unpacked twelve boxes from the Alps.
In one of those boxes were some skeleton keys that (of course) my grandmother collected. I have taken those home to sort out into smaller lots to sell because they are more valuable that way, but it got me thinking. What a great idea for a feature article, When to sell in a Lot and when to sell individually. Don't miss this week's article.