Our last Live Boot Camp was fantastic. It was bittersweet. We were sad and yet happy when it was finished. Here are the girls and my mom dancing in the office when it was over.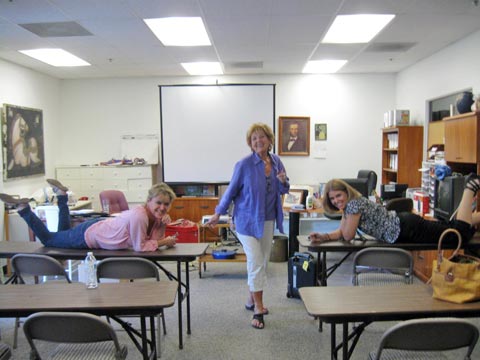 I can't believe that with all of this going on, I actually flew to Florida and spoke at eBay on Location. Thank you to everyone who came to listen to me! I appreciate it! What a great group of students in Florida.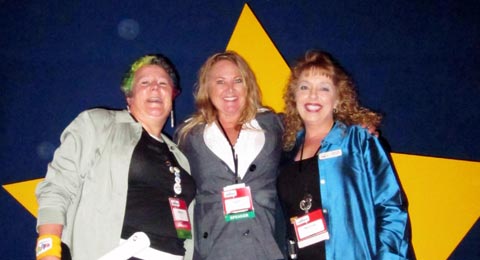 This is a picture of me, eBetsy and Melinda from RRB radio.
Click here for a recent interview I did on her program.
There is a great segment on getting organized.
Seeing eBetsty reminds me of Bling my Bra. Thank you to all the wonderful people behind these auctions, Beth, eBetsy, Danni, Kat and many others! The auctions start soon. Please support this wonderful cause to put an end to breast cancer. You can see the auctions here.
Here is the bra that we blinged! It was Mo's idea to use postage stamps. Brilliant! We are calling it Stamp out Breast Cancer and we found a wonderful Betsy Johnson hot pink bra to use. Carmen sorted out all the red, purple and pink postage stamps and I spent several hours gluing them on. It was ironic because as many of you may know, I had a line of greeting cards with Sunrise/Interart with postage stamp borders. We have included some of those greeting cards with our bra and we are also adding a set of DVDs from LOL to help raise as much money as we can for the cause!
While in Florida, hanging out with the stars from "Thrifting With the Boys," we had a great idea. Why not get them on a teleseminar for the Queen's Court this month? Brilliant! Jason and Bryan crack me up. If you are not a Queen's Court member you can still purchase the teleseminar in the Lynn Recommends section. We had a blast and learned so much.
Because of The Boys, I actually went out and did some "research," aka shopping. I bought 11 t-shirts for $19.00 and have 10 of them listed. The reason there are only 10 listed is because Houston absconded with the Roxanne Police t-shirt. Great!
Here
is one I just listed today.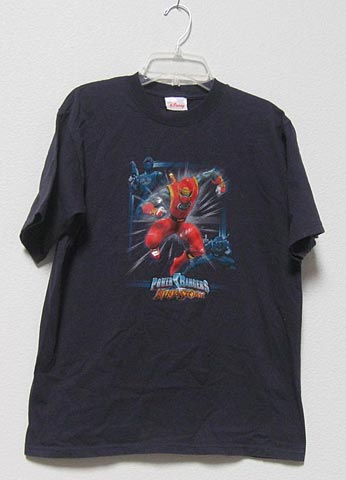 While we were in Bellingham this past summer, I took my kids up to visit my best friend from High School's father, Ed Souve. Ed had been fighting cancer for 5 1/2 years. They had told him he had 18 months to live. Boy did he prove them wrong. He was an amazing man!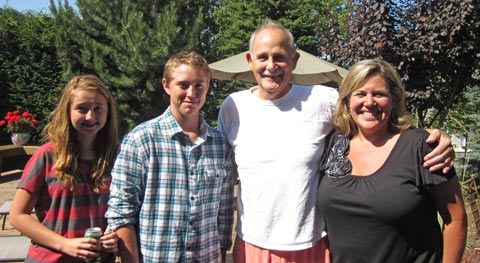 This photo was taken on August 8th, 2011. Ed passed away on September 4th. Here is what I wrote about Ed in his guest book.
Dearest Mel, ET and the rest of your wonderful family, I am so sad regarding Ed's passing. He was LARGER than LIFE and the most wonderful person. I don't think that there is one person in this entire world that can say a bad thing about Ed Souve. He had a heart of gold and was the most positive person I know.

When my kids and I went to visit him three weeks ago, it wasn't about him or his pain (and he was in tremendous pain). He wanted to talk to Houston about his baseball and Indy about her school. Ed never put the focus on him but made you feel like you were special. The truth is, he was the special one. He will be greatly missed.

After we left his house three weeks ago, my kids said, "That Ed Souve is Awesome! What a great guy!" I explained to them that they have known Ed their whole lives. He and ET used to show up to each and every one of their birthday parties when we lived in Bellingham and would bring the best gifts. Complete Gymboree outfits from head to toe. Hats, swim trucks and swim shoes. They went above and beyond and it will never be forgotten.

About two months ago, I dialed a phone number that I knew by heart, thinking it was for the Bellingham Herald. 360-671-6***. It turns out it was Ed Souve's number. When he answered I knew I had dialed incorrectly but instead of hanging up I instantly recognized his joyful voice and said, "Ed". He was happy to hear from me and I was happy that I had dialed him by mistake. We had a nice chat.

His passing away at such a young age was also a mistake. God must have a need for him in Heaven. Maybe he needs Ed to teach him his golf swing.

We miss you Ed. Lynn, Houston and Indy.
~
Lynn Dralle,

Palm Desert, California
I will be flying to Bellingham on Friday night to attend Ed's memorial service on Saturday. I wouldn't miss it for the world. Then on Saturday night we will celebrate my sister Kiki's 42nd birthday. Hopefully we will get some footage to share with you ala "the tent".
Now for some good news from my kids! Houston got to pitch his first inning as a varsity player. He is a freshman! And he did a great job. I am so proud of him but I had to miss it because I was on the QC call. He was mad at me for missing it, but what can I do?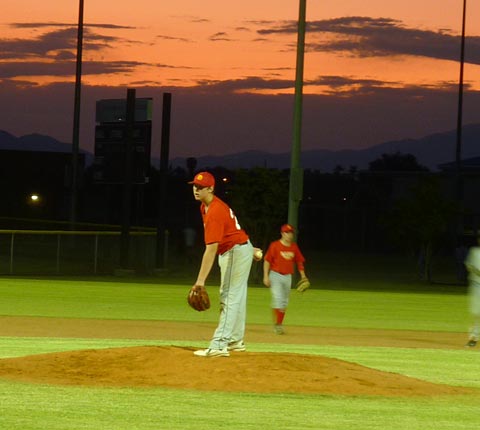 Then I got more great news today from Indy. She is so humble (unlike her mother--according to Mo). I didn't find out until later today that she was chosen as the assistant editor for the yearbook. OMG. As a 7th grader to be named assistant editor is an amazing thing!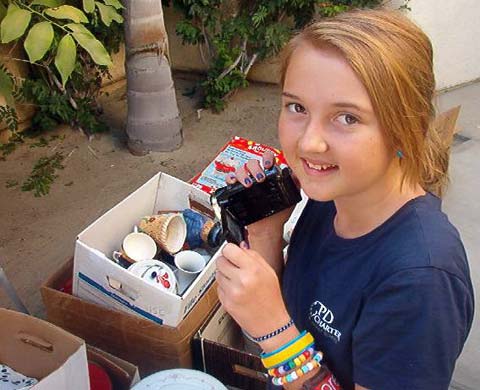 I am so excited to announce that the 2nd episode of our reality show is up for fr.ee on both YouTube and WorthPoint. This episode is Coming Soon. Please read the Special Announcement section to learn more. Thank you to our wonderful sponsors, Kabbage, WorthPoint and The Queen of Auctions for making this possible.
---
News from Kabbage...
Some of you may have heard by now, but we here at Kabbage introduced an AWESOME new feature of our product last week and are making it possible for small businesses to have access to more cash! We understand how useful social media is and how it plays a major role in small business. Therefore we have introduced Social Klimbing ™. This is very exciting for small business! Social Klimbing gives these owners access to more cash based on their activity on Facebook and Twitter! We have had lots of folks come and add their social accounts to their Kabbage accounts! Check out Social Klimbing at Kabbage.com. It is kool!
---
During Live Boot Camp we were able to film some of the commercial spots for the reality show. Check us out when you watch the show in the Special Announcements section!
We learned so much at Live Boot Camp. It was an incredible event. The footage from this Boot Camp will become our Boot Camp in a Box. If you do not own a Boot Camp in a Box you may purchase the 2010 footage and receive this new improved 2011 footage when it is available (sometime in November) for a great price. Be on the lookout for more details soon.
Here is an email I received from Jane regarding her experience at this year's Live Boot Camp...
Just want to say thank u sooo much for an awesome Boot Camp. It was amazing and so much fun. Really haven't laughed so much in a long time. Thanks to Month and Carmen as well. See u next year same time, I wish. Will be in touch. Miss u already.

Jane
Find-More-Things
Here is a photo of all of us running during Live Boot Camp.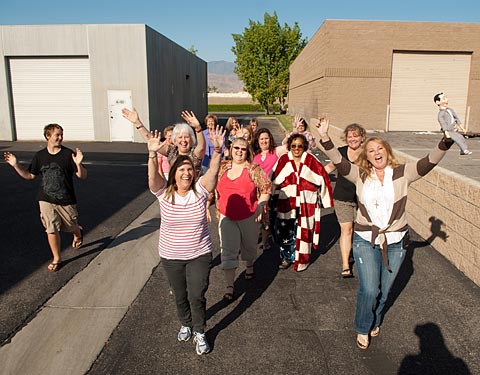 Our mascot for this final Boot Camp was Pee-wee Herman and the scary Halloween costume that Mo hung on the screen. However, I think our mascot has become Clarece's robe that Lee so graciously modeled for us.
You can see that auction here. Poor Lee! Note how Clarece added, "Sorry, man not included."

Lee said he did it because he loved watching us all laugh so hard at him in the robe in 110-degree weather.
You can see the listing here
.


Lee sat in my new and improved office (When he got here he said, "Wow, I didn't even know this room was here") at HQ during the event and worked on section Two of the flatware eBook. Section Two will be emailed out around October 8th. Thank you all for your patience! [It will be worth the wait! - Lee]
Here is a flatware piece that just sold for a LOT! I paid $30. It was in the last ezine but I wanted to show you what it ends up selling for….Yikes!
See the listing here
.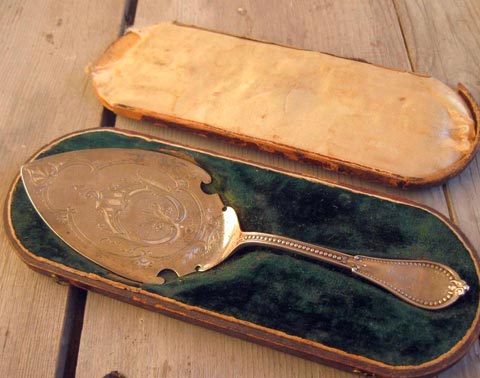 Diva Dawn's class on organization was just the kick in the pants I needed to start on the Alps (organizing the mountain of boxes in the back of Headquarters). Thank you Diva and your green arrows. I actually unpacked two boxes! Yay me! Here are those items on the shelf at HQ.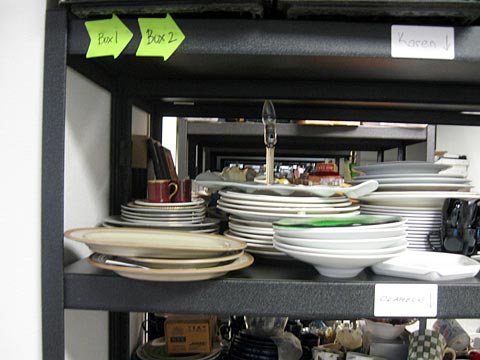 And here is the amazing part of the Diva Dawn story...some of those plates are worth a small fortune! Thank you, Thank you.
---
News from Pagemage.com and my good friend Chris Taylor…
Fr.ee eBay Seller Webinar
"Know Your Numbers" from Jim "Griff" Griffith, Dean of eBay Education; Also "Learn the Best Practices for Holiday Shipping"

-- "Best Practices for Holiday Shipping"
When: Wed, Oct 26, 11:00 a.m. PT / 2:00 p.m. ET

The holiday season is the busiest shipping period of the year. Are you prepared with the latest money and time-saving shipping tools and techniques to keep your business running efficiently and your customers satisfied? Join Mark Le Vine from BubbleFast and Eric Nash from Stamps.com as they discuss packing and shipping tips to make your holiday season headache-fre.e!

Where: Register at: http://TopRatedSellerWebinars.com (This is for all sellers whether you're a Top-rated seller or aspire to be one.)
---
When I was trying to think up something to write about for this week's ezine, I realized we haven't talked about plush for quite some time. Debbie Ybarra, where are you? I emailed Debbie and she immediately responded with an article from several years ago with an updated introductions. Remember how I met Debbie? In an elevator at the Pechanga Casino during a baseball tournament. When she heard me call my son Houston, she said, "Are you Lynn?" Funny! Since then we have done two teleseminars together and Debbie taught at one of our Live Boot Camps.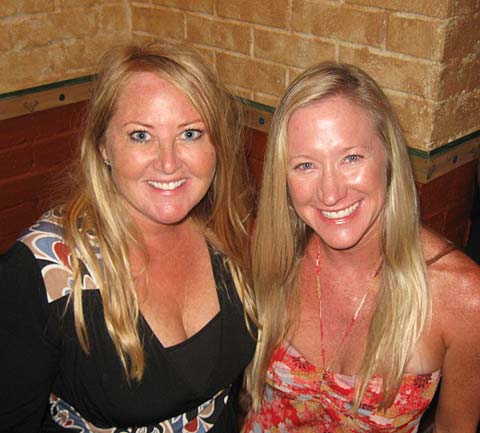 During our email exchange this week, I asked her if she would please come back for plush teleseminar #3 as so much has changed since the last one. Of course, she said yes, she is awesome! The Queen's Court gift for October will be a teleseminar with Debbie about plush on Thursday, October 13th at 5 pm. If you are not a member of the QC, you may purchase the call here. Remember, it will be recorded in case you miss the live call. Once purchased, please email your questions for Debbie to me at Lynn@thequeenofauctions.com
And because I am writing about plush, I finally sold a Barbie that I have had FOREVER. Thank you Debbie! Here is a link to that auction and I can't wait to ask Debbie more about Barbies and what to stay away from and what to pick up, because I apparently don't know ANYTHING about Barbies.
See Barbie's listing here
" target="_blank">here.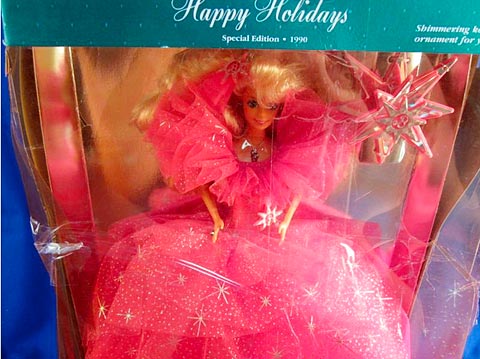 Happy eBaying!