'Sourcing Strategies'
by Lynn Dralle, The Queen of Auctions
I have had some interesting things happen to me lately when out sourcing unique one-of-a-kind items so I thought this week's feature article would be the perfect place to share some of these tips and tricks.
One of the things that keeps coming back to me as I write this article is that I am too darn trustworthy. I tend to believe everything that people tell me. This is a good trait SOMETIMES, just not all the time.
I am also noticing that this article has information about some things that I have done correctly, but more often than not, mistakes I have made. Oh well, that is how we learn

!
1. Ask the seller what they know about an item or items
When I do this right at the beginning it can save me hours of frustration and lots of money!
I bought a bunch of purses once from one of my favorite estate sellers. They were all added up, paid for and in garbage bags when I asked him where they all came from. Guess what? The lady had loved to shop on QVC. Not the kind of information you want to hear after your purchase. If I had heard this as I was beginning to shop, I would NOT have spent several hundred dollars on QVC handbags. Yikes!
Oh well, it has turned out OK. I have sold quite a few of them and have recouped my investment.
Here
is one that I still have up for sale.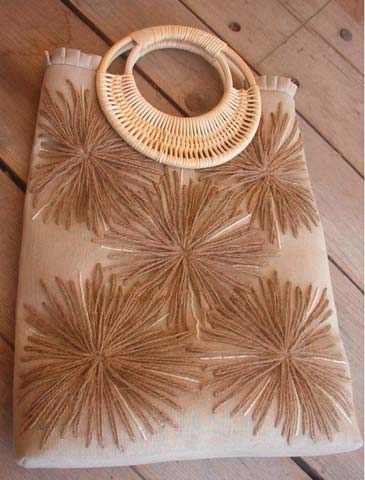 2. Don't ALWAYS believe the sellers
Here is a very big word of warning, do not always believe what the sellers tell you. This is hard for me because I tend to always look for the best in people and I believe MOST of what people say.
Just this past Saturday, I was at a home in my neighborhood that was having a sale. The lady had a ton of designer glasses and sunglasses. I asked, "Where did you get these?" following my first suggestion. She said, "My daughter had a very high end store in Laguna Beach that went out of business. She paid 100's of dollars for these glasses." I asked if she had any Prada because my mom really wants a pair of Prada sunglasses.
Off the lady went inside to get the "more expensive" glasses. There were some Prada reading glasses and a pair of Louis Vuitton Sunglasses for $20.00 each. I LOVE Louis Vuitton so I bought them for myself. After I picked up Houston from the house to go to Indy's soccer game, I showed him the glasses and said, "This lady around the corner has 100's of pairs of designer sunglasses. I may go back after soccer and see what she would take for all of them." I have that product-sourcing mindset that Lisa Suttora talks about!
Here they are.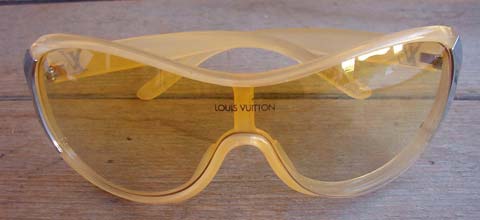 Houston took a look at them and said, "Not only are these ugly but they are fake." I said, "No way!" Then I took a closer look. That little stinker was right! They said "Made in China" and the LV logo was scraping off the side. What a sucker I am!
Here are the two best things that happened.
A. I didn't go back and buy them all
B. I found out they were fake before I tried to list any of them on eBay. Nightmare averted!
Whenever a seller tells you something, make sure you do your own research and verify what they are telling you.
Check out this beautiful antique gas lamp font that I bought from a very reputable dealer recently. I KNOW that I can trust him after many successful transactions, however, no matter what he tells me, I still do my own investigation.
With this lamp font, I knew that it was antique (like he said) but on closer inspection both the burner and the chimney were most likely reproductions, so I made sure that this information was in my listing.
The listing is here
. It still sold for quite a bit!


You may have noticed that I am trying to raise my average selling price on eBay by investing in more expensive antique items. My average price has been hovering around $16.52 . As you know I want to grow my business in the new HQ (headquarters) like Linda the Lawyer has done by moving her business from her home to office space. Linda's average ticket price is much higher. From some research I have done, I am guessing that her average ticket price is close to $60.00. I am working on both listing more items and raising my ticket price.
3. No one knows everything...not even thrift store managers and estate sale professionals
I was at a thrift store (just this morning) where everything seemed to be overpriced. Then I spotted a Guy Buffet single dinner plate for $1.99. It wasn't an entire set (darn!), but I got this plate for a bargain. It lists on a popular china replacement web site for $35.99. I have it up for auction right now at about half of that price (remember it is 25 cent listing days until 11/16).
Check it out here.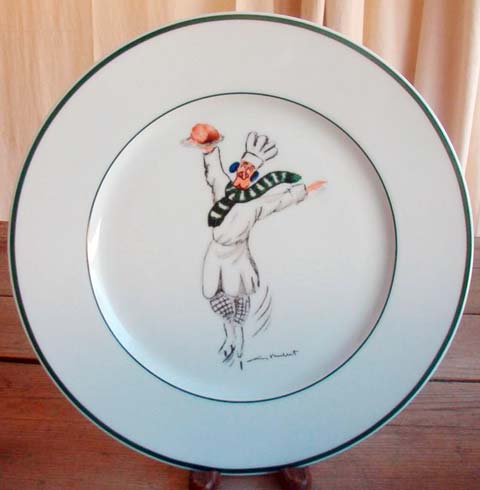 I have also been to a lot of estate sales lately where you can still find bargains (even though many things are overpriced), because NO ONE can know everything there is to know about EVERYTHING. My grandma always said she was NOT an expert, because there was no such thing. She was so cute!
4. Being late can work in your favor
Last Saturday there was an estate sale (run by a professional) that I could not get to until after Indy's soccer game. It sounded like it was amazing so I went even though it was quite late in the day! Many times they are ready to wheel and deal after the major crowds have died down.
When I walked in, most things seemed to be priced quite high, but the books were only $1.00 to $2.00. I couldn't believe my luck when right on top of the pile was the Julia Child First Edition French Cook Book from 1961. WOW! It was almost 1 pm and the sale had been going on since 9 am and this book was still just sitting there.
Here is the listing for the book.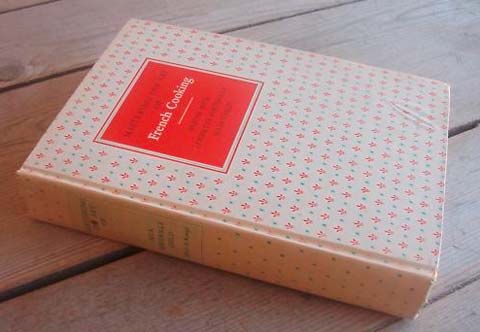 I have had this book before. It was in better condition, but I sold it for $224 within one week. SCORE! I priced this one quite high as you can see, but it is almost Christmas and I can always lower my price. My grandmother also taught me that you can always lower your price but it is much harder to raise it!
5. Let them add it all up and then YOU check their math
OK, I will end this article with my last mistake of the week. I have had quite a few lately

. I was at a sale where all proceeds would be going to homeless animals. The same sweet ladies have it every year. I picked out quite a bit of dinnerware and then I spotted a box full of collector's plates on the ground.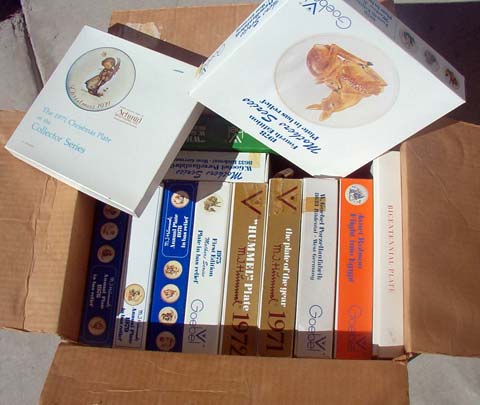 I normally won't pay more than $1 to $2 for collector's plates unless I know exactly what they are worth. Well, in this box was the first edition Goebel Hummel (as opposed to Berta Hummel which is flat...not bas relief) that used to sell for $1,000 with the original box in my grandmother's antique store. Now, you are lucky to get $50 to $100 for it. Wow, have the times changed!
I asked how much and the lady said $50.00. There were 13 plates total in the box and I figured I could get my $50 back from the Goebel Hummel 1971 and it was helping a great cause.
I (stupid me) decided to help the ladies add up all of my goodies. I started with the $50 for the collector's plates and then we added up all of the dishes and we were at $98.50 and then I ADDED in the $50 AGAIN. My grand total $148.50. YIKES!
I didn't realize my mistake until I was driving away and wondering how in the world could I have spent $150 on just 3 little boxes. Then I realized my mistake!
My advice is this. Always let the seller add it up and while they are adding it up double check their work in your head and you may even want to add it up again yourself.
Oh well, hopefully the 1971 Goebel will sell for close to $100 and pay for all of the plates (including my extra donation)! Check it out and see what it is up to.
See this listing here.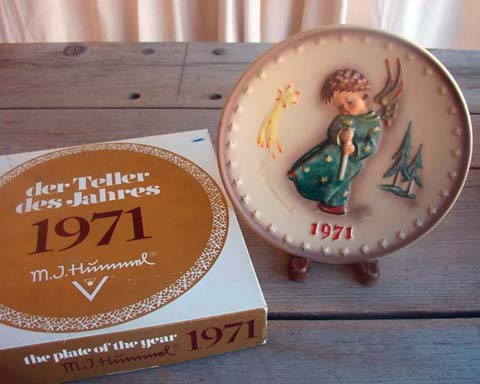 I have to say that karma does often work in your favor. My extra $50 donation to the dog and cat rescue fund has come back to me in many bonuses recently. I did find the Julia Child cookbook that same day and then I found this darling paperweight for $2.00. It was signed and is already up to quite a great price with many days left.
Here is the listing.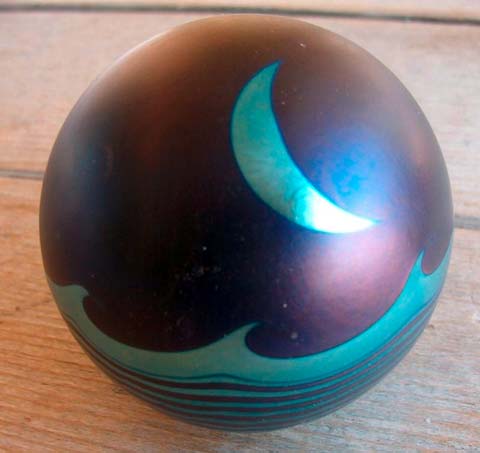 I hope that some of my mistakes and tips will help you with your sourcing strategies. Here's to making 2010 and 2011 our best years on eBay yet!