Lynn's eBay ezine Volume VI,
issue number 15
Hi!
It is August! Live Boot Camp is only 15 days away. How exciting!

This ezine is published every two weeks.
August 12, 2010 Volume VI, Issue 15
As I write this ezine, my mom, Indy, Houston and I are on our way to Vancouver, B.C. for the day. We love Vancouver! Indy is in the back seat listing bras on eBay for me with my iPhone. What?
I get ahead of myself. I was in Albuquerque over the past weekend and I stumbled across a garage sale that had over 200 new bras. They were asking $2.00 each. I asked how much if I bought them all. I got all 220 for $180.00. Here is one of the listings that we did in the car.
Here
is the listing.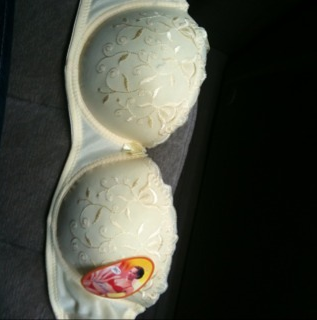 I am hoping that my $180 investment turns into $2200 on eBay. I must admit that I have bras on my mind because Mel and Steve Woods happen to specialize in selling bras. Who are Mel and Steve? They are clothes sellers extraordinaire and have agreed to do a teleseminar with us this month! I am so excited. It will be the Queen's Court gift for August. If you are not a member it will be available for purchase.
Here is a photo of all of the bras that I purchased.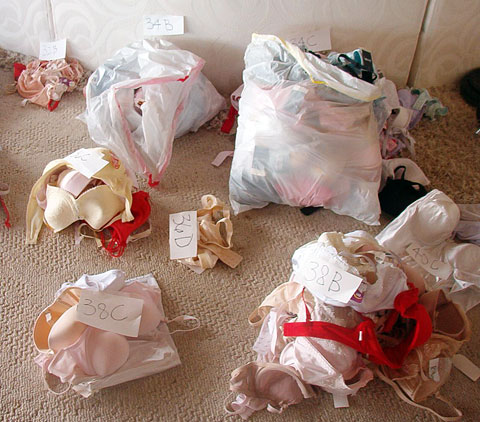 Please read the Lynn Recommends section to learn more.
Our baseball tournament in San Diego was a lot of fun. The entire team went to a Padres game. And on one afternoon, I had the pleasure of thrift store shopping with Darryl and Jackie (a Queen's Court member!) It was a blast.
Here I am with Darryl.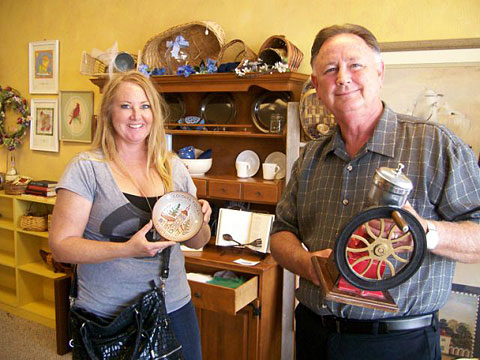 I did buy that Venezuela plate/bowl I am holding for $2.00.
Here
is the listing.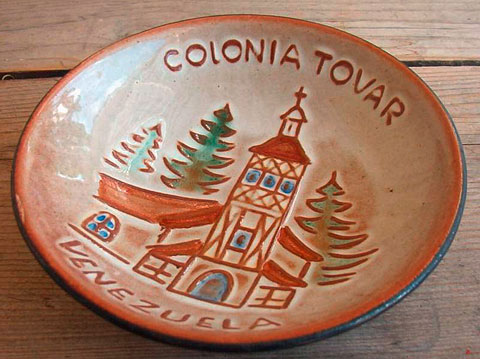 Jackie even posed with me, Houston and Indy after our fun San Diego baseball tournament.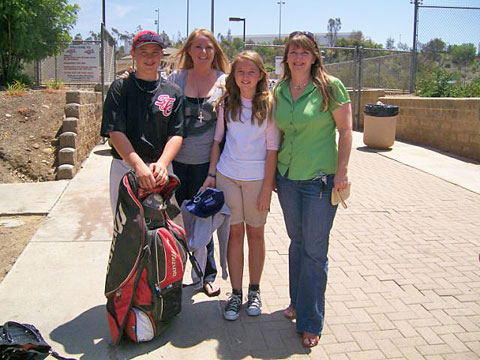 The thrift stores in Poway were amazing. I found a C Alan Johnson Eskimo figurine for $1.00. You won't believe what it sold for!
Check it out here
.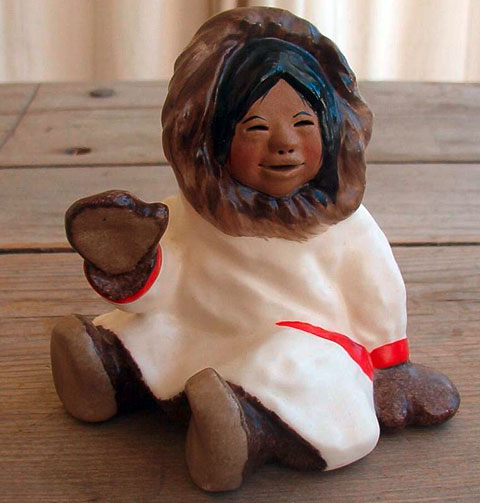 Speaking of the Queen's Court, Carolyn (Queen's Court member extraordinaire) had a cookout at her house last week in Maryland. I can't believe how many Queen's Court members attended. How fun is this photo? Way to go Carolyn!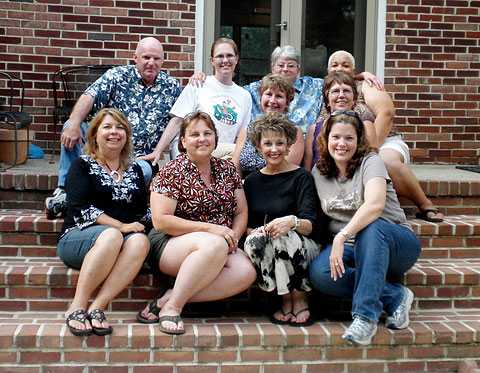 Thanks for the photo, Mandy!
Here is Mandy's note:
The cookout at Carolyn's I mentioned...here's a photo of the QC'ers in attendance!!
Steve, Mel, Carolyn, Cie

Me (Mandy), Debbie

Melissa (Missy), LuAnn, Ray (Southernbelle), Jennifer (Jarsie)
It was great to meet up with everyone!
Mandy
After last week's article on blocking bidders I got quite a few emails asking if a bidder is told that you have blocked them. How do they find out? The bidder will not get an email from eBay that you have blocked them. The only way they can find out is when they go to purchase from you again and a note comes up that says something to the effect that "You have been blocked by this seller."
I have been shopping a lot in Bellingham and have found some amazing deals. At one sale my mom and I came across a set of nine Portmeirion canisters. They were priced from $4.00 to $12.00 each. Way too much!
I did some negotiation and ended up getting them for a great price. Unbelievably, at the time this negotiation was taking place, something even stranger was taking place on eBay. That is why I decided to write this week's article on Portmeirion and Karma. Don't miss it!
The first day in Bellingham, I decided to attack my mom's messy eBay garage and get that huge job out of the way. We did an awesome job! I wish I would have taken a before and after photo but we always seem to forget that step. We cleaned it out, made pathways you can actually use, got rid of a lot of extra boxes (my mom has a box addiction) and set up five new shelves. It was a beautiful thing!
As we were finishing up, I came across a funny book about packrats. My mom couldn't resist taking a photo of me holding it up in front of her newly cleaned up and NON packrat garage.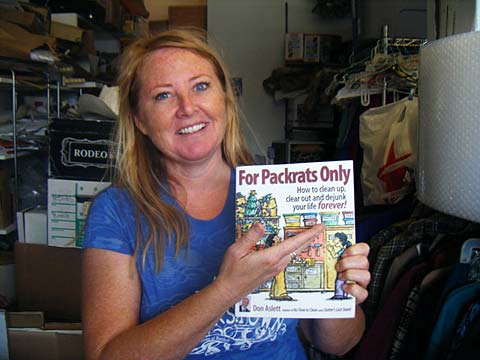 Don't forget about eBay on Location. Don't miss the one in San Jose on September 2nd and 3rd--eBay's fifteenth birthday. It is going to be a blast. Maureen (Mo) is going to attend this one with me. We are also going to speak at the Bay Area eBay sellers group on Tuesday night, August 31st. Click here to learn more about eBay on Location.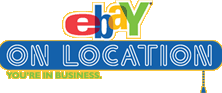 I was a guest on The River, The Ranch and The Bay Radio Show earlier this month. You can listen to the show on their web page here.
LIVE BOOT CAMP is filling up, we have ONLY THREE SEATS LEFT for 2010. If you are in the mood for a spontaneous adventure, why don't you join us this month? Here is a link to read more. We hope to see you there.
Happy eBaying,
Lynn Dralle, 'The Queen of Auctions,'
Creator of the best-selling eBay Boot Camp in a Box.

Mel and Steve Woods are amazing at selling clothing on eBay
. They buy directly from Macy's and other high-end department stores. They know the ins and outs and tricks and tips to get the best deals. They double up on coupons and practically buy for free!
They have agreed to share their secrets with us on a teleseminar on Thursday night, August 19th. It is the August gift for Queen's Court members. Yipppeee! If you aren't a Queen's Court member you can still reserve your spot here. We will take your questions and answer many of them during the live call. And remember that even if you can't listen in live, it will be recorded and available for download shortly after the call.
Amazingly enough, Mel and Steve also specialize in selling Bras. Why do you think I couldn't pass up all those bras in Albuquerque? I am sure I will be learning what I did both right and wrong with my purchase. I can't wait!
Here is Steve and Mel at the cookout in Maryland. He is Melanie's "bra man" and often lets her hang them from his arm while shopping in the store. What a great guy!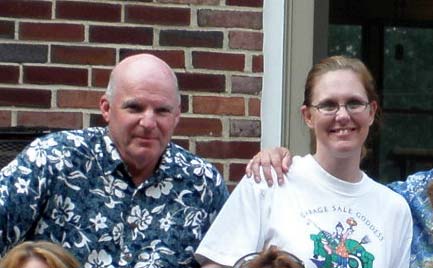 Here is Mel with her crazy huge cat Blizzard and some of her bras.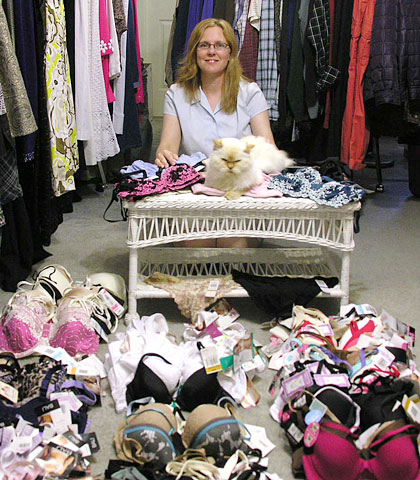 Here is the email that Melanie sent me,
Here are some pictures of our bras and clothes. This is only about 10% of the bras we actually have. The famous wicker table and Blizzard are also in the picture.

We hope you have a great day,

Mel
That "famous" wicker table is the one that Mel got for free at a garage sale during Live Boot Camp 2008 in La Quinta. She actually shipped it home (isn't that CRAZY?) Mel and Steve are awesome. Mo will be joining us for the phone call. Don't miss it. It will be fun, informative, and will help you make money on eBay. Reserve your spot here.

Countdown to Live Boot Camp
15 days left until we kick it off!
We are so excited for Live Boot Camp. Our guest speakers this year are fantastic!
We have my brother, Lee, teaching photography. He will be there to work with each and every one of you hands on. When I was in Las Vegas for my eBay Radio Presentation this past June, I had dinner with CJ Rizzo (one of my very first Live Boot Campers from The Ritz Carlton in Rancho Mirage back in 2006) and she said to me, "I want you to tell Lee how the one trick he taught me with my camera changed how I take photos forever and almost every time I use that feature I still think of your brother." Wow! Live Boot Camp really is that powerful.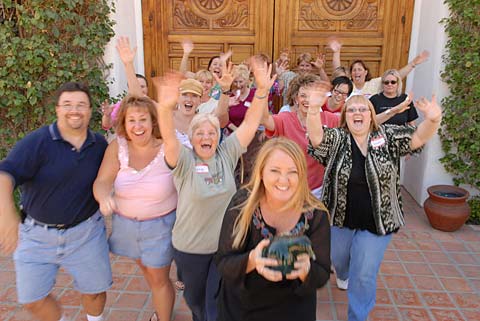 My mom is going to be back to teach about clothing. My mom has a masters in Home Economics, is an expert seamstress and knows everything about fabric, how to measure, and how to list clothing, shoes and hats. She makes her bread and butter selling clothing (much like I make my bread and butter selling dinnerware).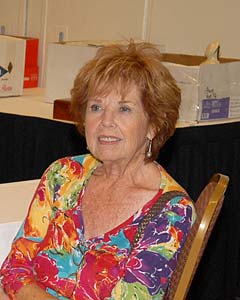 Diva Dawn (coming back for her 4th live boot camp this year

) had a fantastic idea for more guest speakers. She suggested that we have each student teach 10 minutes on his or her area of expertise. "A Boot Camp Show and Tell" or as I like to call it "Around the eBay World in Ten Minutes or less". Brilliant Diva...
Check out this roster...
Mandy (Mandycrafts) is a teddy bear and Steiff expert. I am thrilled that she has agreed to teach. She will be speaking for 30 minutes. Here are her initial thoughts for the presentation...
Maybe a few slides on PowerPoint? How to tell if a bear is mohair, and old? Collectible brands, some identification tips when there aren't labels, condition issues & what to look for and/or avoid? How to clean? Where to find them?
She is going to have plenty of examples and I can't wait!
Diva Dawn (DivaDawnLV) will be speaking about Lilliput Lane cottages. She is a wealth of information about "my" (as she calls them) little Lilliput Lane cottages, and it is a wonderful narrow niche. I have actually seen Diva Dawn's collection when I visited her awesome setup in Las Vegas last year.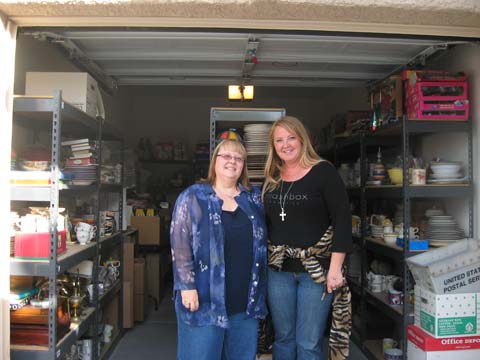 Nancy Nelson will discuss ephemera. Ephem-a-what? you may be asking. Ephemera is the upper crust word for paper goods. Check out what Nancy will be showing us. Too fun!
Some of the items I have include match covers (my husband has an extensive collection of thousands, many from the 1940s), postcards, programs, menus, county fair flyers and newsletters, drive-in movie programs, maps, napkins and cocktail cards from old restaurants and bars, and many others. I always look for these items at garage and estate sales. Recently I sold a drive-in movie program from the 1940s for $65 – and paid pennies for it since it was in a drawer with a whole bunch of similar items, and I bought them all! I can bring a sampling of items to talk about. They aren't always worth a lot, but sometimes I am surprised.
And those are just SOME of our guest speakers. Don't forget there will be me, Mo, Carmen, Deborah and who knows who else! It is a once-in-a-lifetime experience and I highly encourage you to be spontaneous, sign up for our final 2-part payment plan offer and join us on August 27, 28 and 29th.
We are closing down Registration for Live Boot Camp in 10 days on August 22nd. This is going to be a wonderful group and we want to see you here in Palm Desert with us!
I hope to see you soon.
I want to see you there!
Lynn

'Portmeirion and Karma'
by Lynn Dralle, The Queen of Auctions
So there we were on a cold and overcast day in Bellingham hitting garage sales. (Something new and unusual, let the violins play on) it is either cold & rainy (B'ham) or 110 degrees (Palm Desert)...not sure which is worse. It was windy and miserable but we forged on as all true eBay addicts do.

We stopped by an upper-end sale on the south side of Bellingham. They had nine Portmeirion canisters for sale. As I mentioned earlier they were priced way too high. The prices ranged from $4 to $12 each. I said to the couple running the sale, "I love these pieces, but would you take any less if I bought them all?" Notice how I didn't say anything rude like, "OMG these are so overpriced. Are you crazy?" That would NEVER have worked.
Here is a photo of those beautiful Portmeirion canisters
on my mom's beach house deck.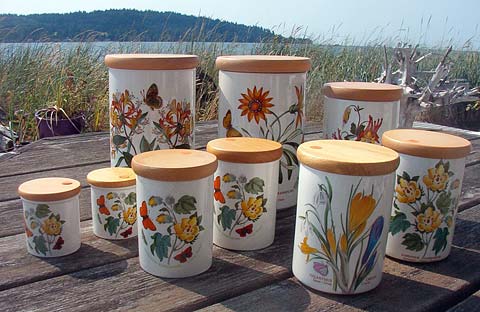 This is how the whole karma thing begins to fit into the picture. "You catch more flies with honey than you do with vinegar," as Cheryl Leaf always said.
The man holding the sale added up all the prices and came up with $69.00, he talked to his wife and they agreed on $45.00. That was an average of $5.00 each. I could handle that. I paid and loaded the Portmeirion into the minivan.
As we were leaving the sale, I whipped out my iPhone to see what was going on with eBay. Karma again for sure. I couldn't believe it but I had a question from a lady who wanted to buy five pieces of Portmeirion that I had for sale in my eBay store. She was asking about combined shipping to Texas. I quickly quoted her $13.95 for combined s/h/I and within minutes she had purchased $52.00 worth of my Portmeirion.
Here
is one of the bowls she bought.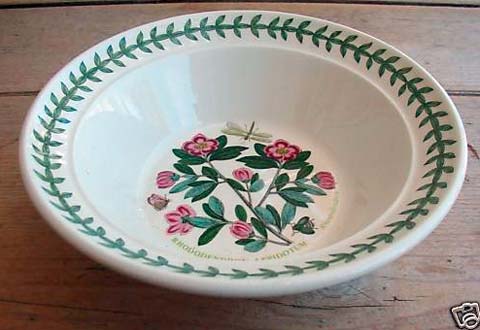 How strange was all of that? My $45.00 investment was more than covered by selling $52.00 worth of older Portmeirion out of my eBay store. I tell you, life works in strange, yet wonderful ways.
I have all nine canisters now listed on eBay. Two of the auctions I started at $9.99 each and seven I started at $24.99. That will be at least $195.00 or a $150.00 profit on the low end. I did find out from my research that these are not called canisters but rather storage jars.
Here
is one of my listings.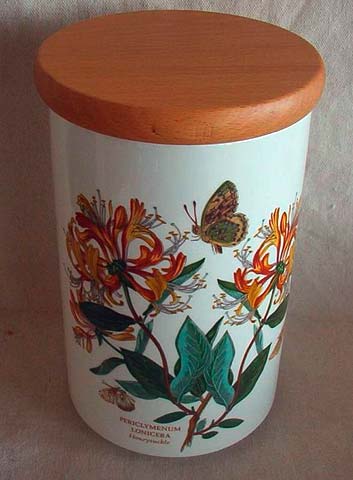 Let's take a look at why I love Portmeirion china. If you haven't figured it out yet, I really love any type of quality dinnerware. I just love dishes! Portmeirion was the manufacturer that we chose for our wedding china. The pattern we picked was Welsh Dresser and about six months ago, I decided to sell it on eBay. The colors just didn't match my décor anymore. It sold very well.
Here is the dinner plate from the Welsh Dresser Pattern.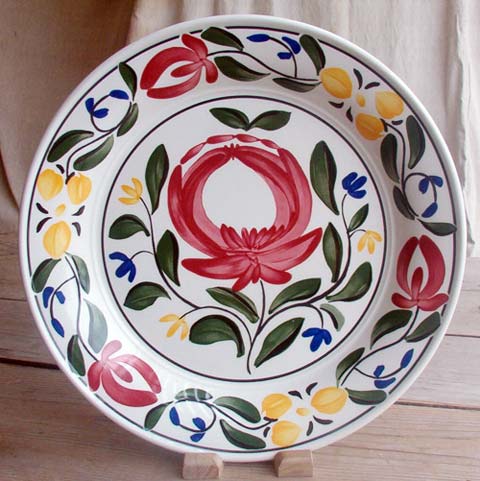 I sold all eight that I owned on eBay for $29.99 each. They listed for $39.99 each on a popular used dinnerware web site. Here is what the Portmeirion Welsh Dresser signature looks like. You can see "Welsh Dresser" written very clearly.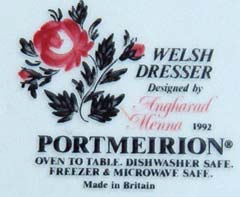 But keep in mind that one of the best selling china patterns of all times is Botanic Garden (not Welsh Dresser) by Portmeirion.
Botanic Garden by Portmeirion began being manufactured in 1972 and is still a current pattern!! 38 years and counting! This one is a classic. I always snap this up when I see it and you see it a lot.
It has various plants and insects with a green laurel garland trim. There were many different styles issued in this pattern so there are 1,000s of permutations. For example, there are 38 different dinner plates.
Dinner plates range from $21.99 to $49.99 on a popular used china website.
Here is what a Botanic Garden Portmeirion signature looks like.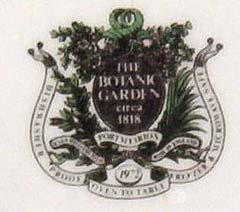 Here is a large vegetable serving bowl. I paid $10.00 for and it sold for $84.00 on eBay in April of 2004. I love Botanic Garden!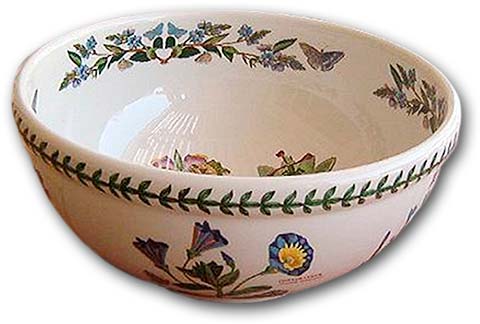 Here is the description from my auction:
Neat Portmeirion Large Serving Bowl is marked "1972 The Botanic Garden c 1818." It is 11 1/4" by 5 1/4". Susan Williams-Ellis, Made in England. In the center are blue passion flowers and butterflies. Around the sides are trailing bindweed, spring gentian, meadow saffron, daisy, ivy leaves, and cyclamen—NICE.
Susan Williams-Ellis founded Portmeirion as a tableware company in the 1960s. She had been creating pottery works for her father's gift shop at the Portmeirion Village in North Wales for years when she and her husband Euan decided to buy two pottery companies in order to expand their product lines.
The company started out slowly, but in the 1970s Susan happend to come across a nineteenth-century book of prints, some of which she adapted into the Botanic Garden line of tableware. Because they were pre-1921 copyright, they were in the public domain and available for her to use.
Hot tip. If you price Portmeirion's Botanic Garden correctly it has a great sell-through rate at auction. Not all dinnerware does sell well at auction, so always buy the Botanic Garden pattern when you see it.
For more information on Susan Williams-Ellis and her company, please check out the official website here. She was a darling lady and unfortunately passed away in 2007. From her photos and the twinkle in her eye, she reminds me of my grandmother. Susan was born in 1918 and my grandmother in 1912. They were from the same generation when women were not supposed to run companies. I love reading about successful women like this!
Check out the history of Portmeirion here.
Botanic Garden has become one of the world's best selling tableware patterns and still accounts for half of Portmeirion's sales. Remember that pattern name, memorize the company signature and watch for it on dinnerware. I hope your karma is as good as mine has been lately!
Happy eBaying!
Lynn
---
Visit my eBay Store.
Visit my eBay auctions.
For more great eBay tips and stories, visit my web site at:
http://www.thequeenofauctions.com
---
WANT TO USE THIS ARTICLE IN YOUR EZINE OR ON YOUR WEBSITE? Yes, you may - just as long as you include all links as they are and append this complete blurb with it: The Queen of Auctions and eBay Power Seller, Lynn Dralle, publishes 'eBay Tips & Tricks' a weekly ezine with 10,000+ subscribers. If you're ready to jump start your eBay business, make more money and have more time, get your FRE E tips now at www.thequeenofauctions.com

eBay PowerSeller and third generation antiques dealer, Lynn Dralle, is the creator of Boot Camp in a Box, the home-study course where you can learn to implement the Dralle Method to maximize your eBay profits.
If you liked today's issue, you'll love this step-by-step course that is guaranteed to be the most complete and enjoyable guide to selling on eBay that MAKES YOU MONEY.
Read all about it here.
The Queen of Auctions also offers articles, teleseminars, how-to books, tracking guides, DVDs, eBay Boot Camp training and other resources to help entrepreneurs make their eBay business a six-figure sales machine.
The Queen of Auctions/All Aboard Inc.
PO Box 14103
Palm Desert, CA 92255
760-345-9355
Lynn@TheQueenofAuctions.com
---
---
Lynn is an experienced eBay Power Seller, author and teacher. If you want to know the eBay tips, tricks and tools that Lynn uses for buying and selling at online auction click here.
Copyright © 2015 Lynn Dralle - All Rights Reserved..
---