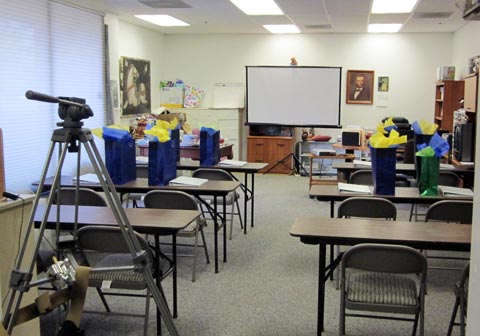 It was a great Live Boot Camp and I can't wait to see the finished DVD set.
This is the last Live Boot Camp and with all-new content (well a little bit of repeat, but not much!) Some of these great lessons are how to put Fulfillment by Amazon to work to grow your bottom line and how to find new goods from manufacturers.
Plus, we have a new producer for our DVDs!
We will have an all-new viewpoint because Stuart from Avant is filming, producing, editing and compiling our DVD footage. Stuart is a perfectionist. He is amazing. He spent over two hours prepping tonight for the filming. It is going to be crazy fun and educational.
With such a small group, we captured amazing breakout footage. For example, want to come and hang out with Lynn in her office? You can! And it will be filmed for you because you can't be there.
Here is what my office door looks like! (Thanks Jackie and Darryl for that awesome Queen sign!)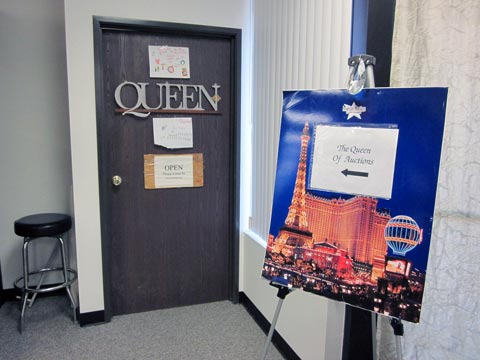 I poured my heart and soul into this final Boot Camp. Here is what my viewpoint looks like from the front of the room.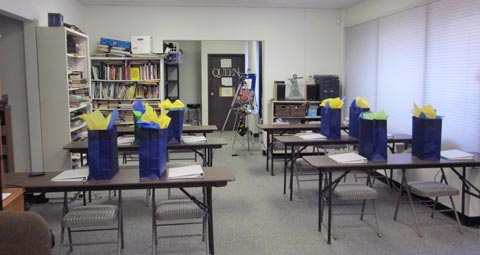 Just think, with our new courses, a brand new DVD producer, and my new strategies about growing an online business to crazy levels, you can't let this offer pass you by.
Remember our new motto...PILE THE GOODS HIGH and Watch them go Bye Buy!
We want to teach you how to turn your inventory super fast. Move it in and move it out is what makes for success on eBay and Amazon. We have some great new strategies to accomplish this that we have been implementing at HQ and we can't wait to show you. Many more exciting things are getting ready to take place at HQ. Don't miss this footage.
We are sorry you couldn't be here, but the great lessons of Live Boot Camp - HQ! can be yours with this amazing DVD set.
Happy eBaying!
Lynn
P.S. If you are a Queen's Court Member, don't forget to use your 15 % discount coupon.
P.P.S. For me to meet my goals--$1 million in sales by 2012--I need Amazon FBA and new manufacturer goods. How can this help you meet your goals? Order the DVD set and find out!
(The set will be shipping when ready some time after Live Boot Camp weekend.)
Copyright © 1998 - 2011 Lynn Dralle - All Rights Reserved