Lose the fear as you listen to my 90-minute call with Lisa Suttora from last Tuesday.
Lisa and Amazon are a Dynamic Duo!
Click here to purchase now.
With a 46% year over year growth, there's no doubt that Amazon is one of THE hottest online marketplaces. With its stellar growth outpacing eBay AND Ecommerce, there is tremendous opportunity there. Amazon offers automated shipping, customer service and some of the world's best customers… Just a few reasons that integrating Amazon into your online business model is something EVERY online seller should consider.
This amazingly positive phone call was all about adding Amazon sales to your current eBay business model. It makes a lot of sense and I can't wait to tailor it to my OOAK (one of a kind) business, add a few commodity items and generate some extra income. It is a really exciting time for ecommerce and no one knows more about the ins and outs of this expansive market than my friend Lisa Suttora.
Lisa and me at LOL 2011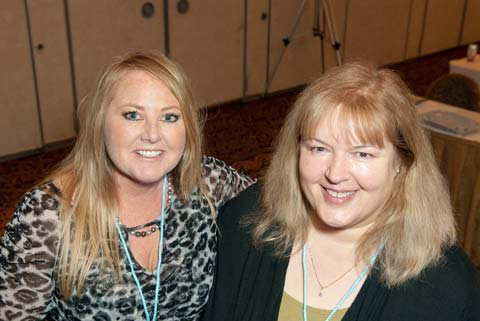 Lisa explained how anyone can use Amazon to increase their online sales! Lisa is just back from speaking at the 2011 Amazon Sellers Conference, and brought with her the latest exciting news about online selling opportunities on Amazon! We were so lucky to have Lisa as our special guest.
If you missed the live call you may still purchase the instant download here and learn her insider secrets for adding Amazon to your business model!
Oh yeah, I almost forgot. Stamps.com is now integrated with Amazon. It used to be a ROYAL PAIN to ship using Amazon but with Stamps.com as an option shipping is a breeze.
You can easily import data on Amazon with one click and Stamps.com will also post-back the tracking number to Amazon just like they do with eBay.
You must have the paid Stamps.com account to do this. The paid account is $15.99 per month and if you are selling on eBay and Amazon, I highly encourage you to sign up for this option. Learn more here.
If you are a Queen's Court member, the Lisa Suttora Amazon call is your gift for July.
Happy Garage Selling & eBaying!
Lynn
www.thequeenofauctions.com