Why Did You Buy That?
So here again is that pile of stuff that got me inspired to write this week's ezine article.
Let's talk about each item and discuss the thought process behind the purchase.
When I walked into that overcrowded thrift store on Monday, there was a cute display of hinged boxes by the register. I love hinged boxes! My grandmother collected them. Well, you may be asking, what didn't she collect? That would be a much easier question to answer

.
I quickly turned them all over looking for signatures. Only one was signed. Not a good sign (ha ha)!
The one that was signed had PHB and MCF. Well, I know that signature as well as I know the back of my hand. (I am starting to sound like my grandmother.)
In any event, it is the signature for Porcelain Hinged Boxes by Midwest of Cannon Falls. We carried these in our antique & gift store and they were fantastic sellers! My dad even built a special shelf by the register for them to be displayed.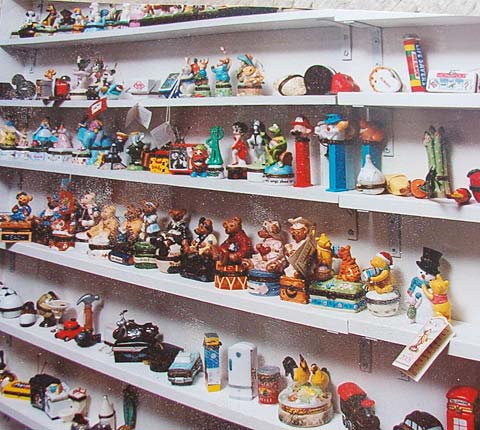 1. Porcelain Hinged Boxes Sell Well
As you can see in the photo above of my "2828" purchases, I bought two porcelain hinged boxes. One was of Hollywood ($5.00 paid) with no signature and the other was a Sugar Daddy signed PHB ($4.00 paid).
Here are the listings so that you can see how well they do.
When buying porcelain hinged boxes to sell on eBay, watch for great signatures, great subject matter or really cheap prices.
Many of these boxes came with items inside of them that relate to the outer box. Make sure that you mention this in your listing. The Hollywood one still had the inside trinkets but the Sugar Daddy was missing whatever came inside originally.
Here is a porcelain hinged box with a great signature that was free in the stuff from my friend Gregg and his wife Robin. You won't believe what it sold for!!!
One person's trash is another person's treasure! Trash to Cash….
2. Good Brand Names Sell Well
As I was walking through the thrift store on that busy day, I spotted a vase out of the corner of my eye. It just reeked of "quality." I knew before I turned it over that it would be a good maker's mark. It certainly was. Villeroy and Boch. Even though it was priced at $5.00, I bought it.
When I got it home and researched it, I thought that the designer's name was Flora Summerfield. Cool name, right? Well, it turns out that was the pattern name. Ha ha, joke's on me.
In any event, there were none of these vases listed on my favorite china website. I did find some that had sold on PriceMiner in the $16 range so it wasn't a huge score, but I figured I would start it high and see what happens.
When you can find good brand names for a reasonable price, it is usually a smart idea to buy them.
3. Serving Pieces Sell Well
Even when I don't see a complete dinner set, I will look around for exceptional serving pieces. I thought that the Villeroy & Boch vase was exceptional and then I saw this fish platter.
I love fish and sea life items. They typically do very well. I quickly turned it over and saw the Tabletops Gallery signature and a Home Goods price tag. Home Goods is part of the TJ Maxx and Marshalls family. Don't let a Home Goods price tag confuse you. They still sell very nice items. There was also a matching pitcher and salt and pepper shaker set.
I looked at the pitcher and noticed that it had a chip at the spout. The salt and pepper shaker set was also badly chipped. PASS! Because those pieces were damaged, I very carefully checked the fish platter. My thought process went like this. If someone donated three of the serving pieces from this set and two of them are damaged, there is a high likelihood that the last piece will also be damaged. And, FYI, the thrift store did not have those other two serving pieces priced as damaged.
I was not going to be spending $12 for a platter with any defects! I carried it into the light and carefully went over it with a fine-tooth comb (sounding like my grandma again). No chips. Yippeee! I decided to buy it without even looking up the pattern. I knew I could at least double my money if not make four times my investment.
Many times serving pieces are worth purchasing as standalone pieces and worth paying a little extra for. You don't always have to buy the entire dinnerware set to make money.
When you are out shopping and you need to make quick decisions, keep in mind the reasons why I bought these four items at my thrift store. I hope that these examples will help you find some scores!
If you want to learn more about selling dinnerware on eBay, my dinnerware eBook is a fantastic tool.
Happy eBaying!