I think that my crazy travel schedule is finally winding down. I don't see any more airplane flights on my calendar for the rest of the year. However, I am sure that will be changing .
Mo and I just got back from SLC and the eBay Certified Provider Fair. It was a blast! The first night we were invited out to dinner with Laurel and Austin (two eBay executives), Auctiva, InkFrog and Monsoon.
Needless to say, it was the beginning of quite the experience! After dinner, Mo and I talked them all (10 +) into going to Macy's to buy clearance bras to sell on eBay. First, we had to take them to TGIFridays and encourage them with an adult beverage. On the way to TGIFriday's I tripped on uneven pavement and went flying. Mo was in the back thinking "Oh, I hope that wasn't Lynn," but of course it was. After skinning my elbow, we descended upon the restaurant. Apparently in Utah, in order to have an adult beverage, you must purchase food. We had just had dinner so I asked the bartender to please bring us the cheapest thing on the menu that would qualify as food.
Before you knew it, a plate of fried green beans was placed before us and we were able to order our drinks.
And then it was off to Macy's. We had a blast. The guys were great sports and helped us pick out 21 bras at fantastic prices. The sales lady loved helping us because she was on commission. I bought all 21 at an average price of $11.00 each. They are now listed in my eBay store at a fixed price. I am thrilled to report that I sold my first one the morning after getting them all listed… for a best offer of $25.00.
And I just sold another one last week for full price!! Yippeeee.
A BIG thank you to Mel and Steve and their clothing teleseminars for making this happen! To learn more about these clothing teleseminars, please read the Special Announcement section to purchase the download if you missed the live call.
After that crazy evening, Mo and I got to meet about 400 eBay employees at the Certified Provider fair. For those of you who don't know what an eBay Certified Provider is (I have been one for more than 3 years), here is more info directly from the eBay site and a link to see me and the other Certified Providers (only 25 in the world). It is quite the honor!
The Certified Provider designation helps members of the eBay community feel more comfortable with hiring providers to grow their eBay businesses. Certified Providers are carefully screened to ensure that they can provide eBay members with services and solutions to grow their eBay businesses. Among other criteria, participants must have extensive experience with eBay, pass a strict certification exam and provide a number of proven customer references that are checked by eBay.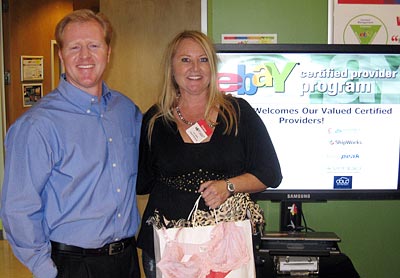 Check out other eBay certified providers.
Here I am with Craig Russell, my Certified Provider liaison, at the Fair with my Macy's bag of bras. Too funny!
After the CPF, we went out to dinner and then headed to Park City for another crazy evening with eBay Andy, Austin, and Jon and Bryan from Cloud Conversion. On the way to Park City we stopped off at eBay Andy's house and got to meet his darling wife, kids and chickens. (Only in Salt Lake City.)
Friday morning found Mo and I at the Desert Industries thrift store. I found a few coffee mugs and Mo got some plates.
Then it was back to Palm Desert and filming for my reality show. It has been a blast. Crazy things we have been filming have been selling for A LOT of money. Seems like things are just flying off of our shelves. Auctions seem to have really picked up. I hope things are picking up for you also. Christmas is just around the corner. (Did I say that out loud?) Get your stores stocked and ready to sell, sell and sell some more.
As you know, October is Breast Cancer awareness month and I have been asked to contribute a (guess what?) bra to the Bling My Bra campaign. Indy, my mom and I all headed to Joanne's fabric on Sunday after filming to buy the makings. Here is Indy making The Queen of Auctions Blinged-out Bra.
This press release comes from eBetsie, "The second annual Bling My Bra campaign of Giving Works charity auctions on eBay is now underway.
Bling My Bra is a group of ordinary women getting together nationwide to raise money for breast cancer awareness, education, and research. They have hand crafted and donated one-of-a-kind art bras to be auctioned on eBay throughout the month of October. All proceeds benefit Susan G. Komen for the Cure, global leader of the breast cancer movement.
The blinged bras run the gamut of imagination and creativity, from sequins and rhinestones, feathers and fringe to comic book superheroes to patriotic and sports-themed bras, and more. Celebrity bras are being contributed by Richard Brewer-Hay, eBay Ink Blog; Marsha Collier, ecommerce expert and bestselling author of the eBay for Dummies series; Lynn Dralle, the Queen of Auctions and eBay Certified Provider; Edward Hamilton, the Ministry of Rum; John Jantsch, ecommerce strategist and creator of Duct Tape Marketing; Debbie Levitt, founder/CEO of AsWas, an eBay Certified Stores Designer; Mike Michalowicz, the Toilet Paper Entrepreneur; and others, including eBay Radio. Dallas Cowboys legend and Pro Football Hall of Fame member Randy White has signed a Dallas Cowgirl Cheerleaders Bra. Janelle Elms, Visionaire of the OSI Rock Stars, also has autographed a bra.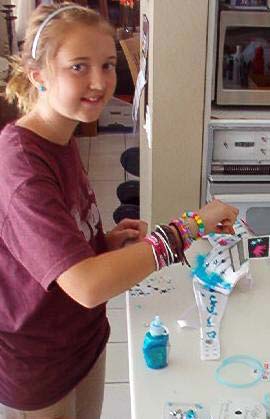 EBay is supporting Bling My Bra too, with several teams of employees involved in creating bras. The eBay employee whose blinged bra brings in the most money for charity will be awarded an Apple iPad
by eBay CEO John Donahoe.
New bras are being listed on eBay every day throughout October in honor of Breast Cancer Awareness Month.
Thank you to everyone involved with Bling my Bra! Last year they raised over $3,000 to help fight breast cancer and this year I KNOW that they are going to raise even more. My grandmother was a breast cancer survivor and it is a cause very near and dear to my heart. Please bid on the bras by going to BlingMyBra.com.